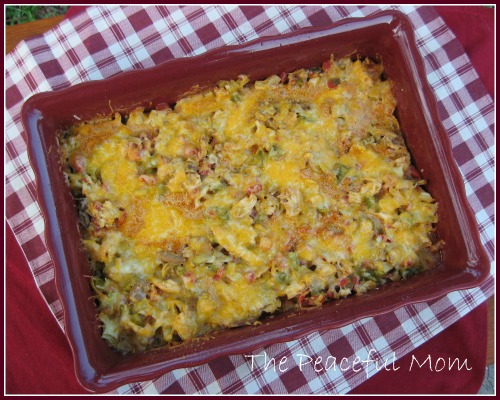 Out of ideas for chicken? Try this southwest inspired Ranch Chicken Casserole. 
A southwest inspired chicken casserole from The Peaceful Mom!
Ingredients
1 green pepper, diced
1 yellow or red onion, diced
1 small clove garlic, minced
3 tablespoons butter
1 cup sour cream
1 14.5 ounce can Mexican Style Tomatoes
1/2 tablespoon chili powder
1 teaspoon dried cumin
1 8 ounce can of sliced mushrooms, drained (or 1 cup sauteed fresh mushrooms)
1 14 ounce can artichoke hearts, drained and chopped
2 cups cooked chicken, shredded
2 cups cheddar-monterey jack cheese, shredded
Instructions
Preheat oven to 350 degrees.
Spray a 9x13 glass or stoneware baking dish with preferred cooking oil or spread olive oil around the inside of the pan using a paper towel.
In a large skillet, melt butter over medium high heat.
Saute green pepper, onion and garlic for 1-2 minutes until onion is almost translucent.
Stir in sour cream and stir until the mixture is smooth and starting to bubble.
Add tomatoes, chili powder and cumin and stir to combine.
Add artichokes and mushrooms and stir to combine.
Fold in chicken.
Pour mixture into prepared baking dish.
Sprinkle cheese on top.
Bake for 30 minutes or until cheese is melted and lightly browned.
https://thepeacefulmom.com/2012/07/04/ranch-chicken-casserole-recipe-gluten-free/
I'm linking up to Gluten Free Wednesdays!