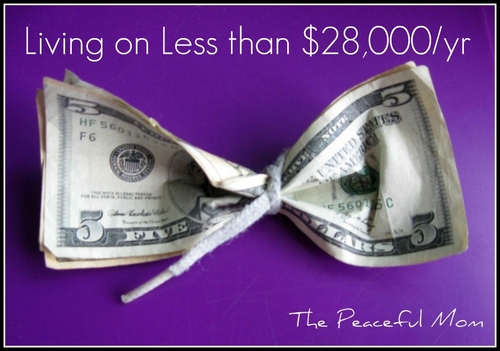 Living on Less Than $28,000 A Year: How our family of six survives (and even thrives) on an income that is less than half the national median income, and what the government calls "below the poverty line" (less than $29,990 annually) for our family size. Click here to read other posts in this series.
_______________________________________________
Subscribe to my FREE e-newsletter to get my best tips to help you save money, get organized and enjoy life sent right to your inbox!
_______________________________________________
When many people find out that we live below the "poverty line", they're shocked.
"How can you allow yourselves to live like that?," they think (or say).
I imagine them picturing dirty, half-naked, starving children running around barefoot and they're appalled that we could live under those conditions.
Um, we don't.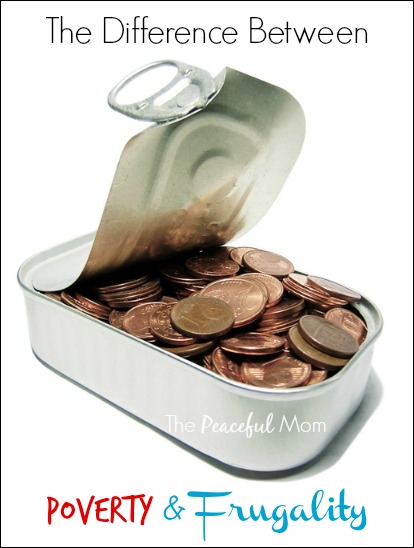 There's a HUGE difference between poverty and frugality, although many people confuse the two.
There are many contributing factors to someone living in poverty, but one contributing issue can be attributed to mindset. What is the difference between one man with no legs who sits on a street corner begging in filthy rags and another who has the same disability yet chooses to find work to support his family? What about the double amputee who participates in the paralympics?
Yes, circumstances can be difficult, but we don't have to stay in our circumstances. We can make choices to change our lives.
When we picture "poverty", we think of beggars and starving children, but many people with nice incomes live in "poverty" right now because of the way they think. See if any of these mindsets sound familiar:
Poverty Vs. Frugality
Impoverished thinking is different than frugal thinking:
"We can't afford that." vs. "We choose not to buy that because we have other priorities."
"There is never enough." vs. "We have more than we need."
"Doing without." vs. "Making do."
"We can't make it." vs. "Let's do everything in our power to make this work."
"We have to eat macaroni and cheese because we can't afford good food." vs. "We choose to eat macaroni and cheese once a week in order to save money for something more important."
A poverty mindset makes people discontent, always striving and never arriving. No matter how much money they make, they can never be at peace.
A poverty mindset is based in fear. It makes you feel out of control and helpless.
Choosing to Live On Less
Choosing to live frugally, however, is empowering. You are in control of your money and don't allow your circumstances or other people to control your actions.
Choosing to live on less brings freedom. You no longer have to use credit cards in case of an "emergency" car repair. You are fully aware that car repairs will be needed and you save ahead of time for them.
Choosing to live on less brings peace and contentment. You have patience to wait until some "needs" can be met because you're not driven by the fear that your needs will never be met. You don't have to run out to the store immediately when one of your dishes breaks, because you realize that you can get along just fine with only 7 plates instead of 8 (or 19 instead of 20). You don't feel that you need a new pair of shoes just because the heels are slightly worn on the ones you have.
Choosing to live on less means that you choose how and when and where to spend your money. You make your financial decisions based on what is best for you and your family, not what the neighbors or your family members think.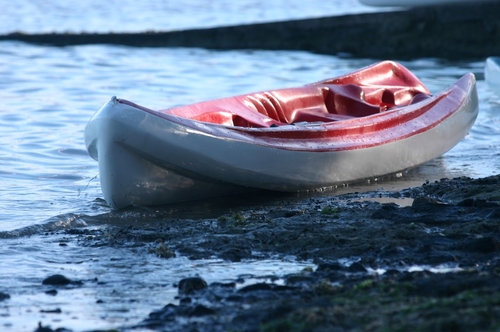 Paddling Upstream
Living this way can be difficult. I have a friend whose husband is a successful executive. They make a very nice six figure income, but she still chooses to use coupons.
At a recent party she hosted, she nicely folded the tissue paper after the guest of honor opened her gifts. Her well-to-do friends started making fun of her, but she kept folding the paper. She told me later, "You know, I may have only saved a few dollars by recycling the gift bags and tissue paper, but that's one reason we have savings instead of debt."
Her friends think she has a poverty mindset, but it's just the opposite. My friend is not afraid to spend or save her money in a way that brings financial freedom to her family, in spite of extreme peer pressure to stop her money saving activities. She is choosing to live on less in order to fulfill a higher priority in her life.
Ghosts From Childhood
Many of us grew up in homes that were financially confusing. Our parents may have spent too much or hoarded out of fear. As adults we live in reaction to the way we grew up, whether we realize it or not.
Maybe you grew up in a home where there was never enough food, so now you feel compelled to keep a well-stocked pantry. There is wisdom in having extra food in your house, but if you're driven by fear to stockpile and you're spending money on food that's needed to pay other bills, you have a problem. (You can read about how I overcame a fear of not having enough in my e-book Save More–Clip Less.).

Keeping Up Appearances
Did you know that most people who look "wealthy" really aren't? In the book The Millionaire Next Door: The Surprising Secrets of America's Wealthy, author Thomas J. Stanley reveals that most Millionaires drive older used cars or trucks, wear non-designer clothes and aren't really that noticeable in society. Why? They are putting their money where it counts, not spending money to impress people they don't even know.
How to Change Your Poverty Mindset
If you have an inkling that you might be living with a poverty mindset, try these ideas to step out of it:
*Get the big picture-Start to meditate on the difference between deprivation and a choice to save money now so that you can be more secure later.
*Consider your past– Think about what may be causing your spending behavior. Is there something you're trying to gain emotionally from spending? Seek out counseling or start praying about the issue.
*Decide your priorities– Decide what you really want deep down and start to make financial choices based on those priorities, rather than allowing others' expectations to control you.
*Don't give up– Don't let little mess-ups discourage you. Keep plugging away at your financial goals.
Please Note: This is not a discussion of how and why people live in poverty around the world, so please reserve those comments for another time. Please do feel free to comment on how a poverty mindset affects you personally or how you have overcome it.
next post: Don't Your Kids Resent You?
Click here to read other posts in this series.