This is a Sponsored post written by me on behalf of Florida Orange Juice. All opinions are 100% mine.
Summer's here and while some families are enjoying a more relaxed schedule, things are just heating up for us. Between day camp, visiting friends, birthday parties, volunteering for Vacation Bible School and our normal weekly activities, it seems like I'm running from morning til night.
With life being so busy, it's difficult to make sure that my kids are getting all the nutrients they need, but one way I squeeze some extra nutrition in (pun intended) is by purchasing orange juice when I find it on sale in order to add more vitamin C to my children's diets.
Personally, I don't drink juice because it makes my blood sugar rise too quickly, but my husband and kids love it! As I mentioned in a previous post, rather than drink it straight, we like to make OJ freezer pops and smoothies.
Smoothies are a great time saver in the morning, because you can throw all of the ingredients in the blender and have breakfast in no time. Kids can even drink their smoothies on the way to all the events you're attending this summer.
Our new favorite is this Mango Orange Smoothie: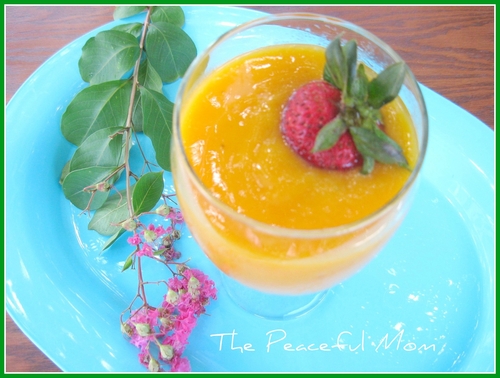 Ingredients
1/2 banana, cut into chunks (frozen bananas make it thicker)
2 ripe mangoes, peeled and diced
1 orange, peeled and cut into chunks
1/2 cup- 1 cup orange juice
Ice cubes
(You can also add 1/2 cup of fresh peach slices.)
Instructions
Add all ingredients except for ice cubes to the blender.
Blend on high until smooth. Make sure to add enough liquid to maintain a vortex (hole) in the center while blending.
Once the liquid is smooth, add a few ice cubes.
Blend until smooth again.
Serve immediately.
Another great idea for on-the-go moms from Registered Dietician Kathleen Zelman is to pack a cooler with snacks like hummus and veggies, nuts, granola bars and 100% Florida Orange Juice.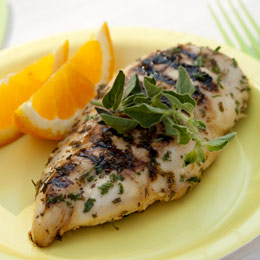 Kathleen also suggests grilling with lean cuts of beef, pork and chicken and adding orange juice to your marinade like this easy Citrus Chicken from DisneyFamily.com.
100% Florida Orange Juice not only has lots of vitamin C, but potassium as well which is an important nutrient to keep muscle cramps away now that your children are playing outside more.  An 8 ounce glass of orange juice contains half of your recommended fruit intake according to the USDA.
If you'd like to find more creative ways to incorporate orange juice into your day, you can "like" Florida Orange Juice on Facebook. Be sure to check out the delicious food and drink recipes from Florida Orange Juice on Pinterest