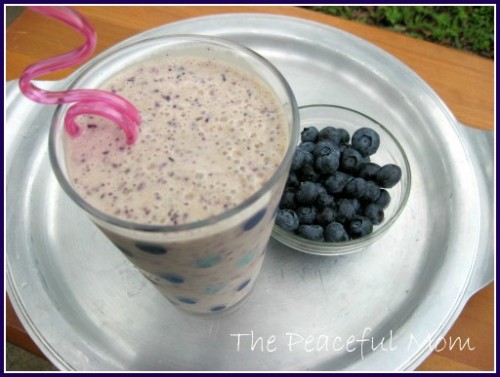 I just love when blueberries are in season! They are my absolute favorite berry and this yummy smoothie is the perfect way to enjoy them (other than eating  fresh picked blueberries!
Ingredients
1/2 frozen banana, cut into one inch chunks
1 cup vanilla yogurt (use Greek yogurt to make it thicker)
1/2 cup milk
1 1/2 cups fresh blueberries
1 teaspoon honey (if desired)
Instructions
Combine all ingredients except blueberries in a blender.
Mix for one minute on high.
Add blueberries and mix until smooth.
Serve immediately.
https://thepeacefulmom.com/2012/06/15/very-blueberry-smoothie-2/
The banana adds just enough sweetness, but you can add honey if you would like a little sweeter taste. This is a fun snack for a summer afternoon or a great breakfast idea.
I'm linking up to Tasty Tuesdays and Gluten Free Wednesdays
You May Also Enjoy: