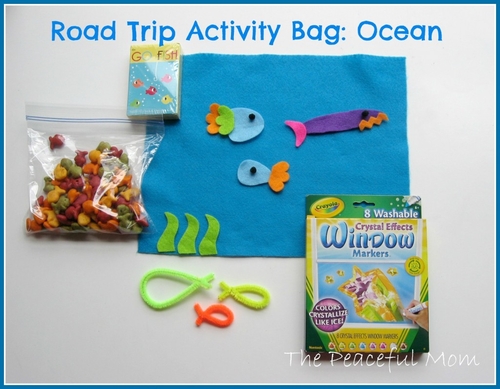 Taking a road trip? Every day this week I'm sharing a make-ahead road trip activity bag with simple snacks and activities to keep your kids happy (and you too!). Today's bag is an ocean theme. All materials were purchased at Walmart, but if you can't find what I did, be creative and use what you have. 🙂
PLEASE: Feel free to share a link to this post, but please do not copy my ideas and present them as your own.
Store activities in brown paper lunch bags or zipper plastic bags and give them out once an hour (or at longer intervals if your kids are still interested in the bag they currently have).
ACTIVITIES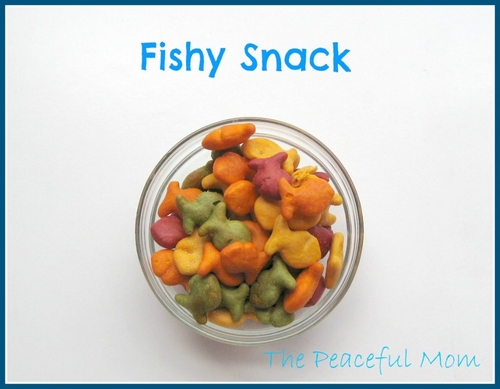 Fishy Snack- Munch on these colorful fish.
Before the trip: Purchase fishy or whale crackers and place in plastic sandwich or snack bags.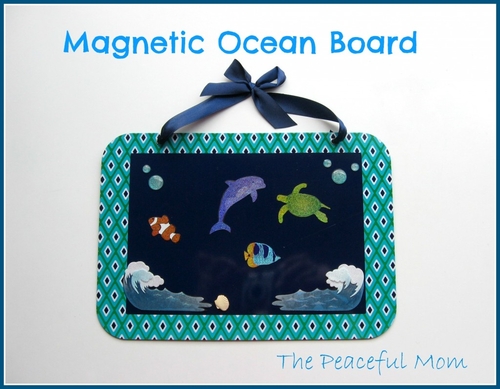 Magnetic Ocean Board– "Swim" these magnetic creatures through the ocean.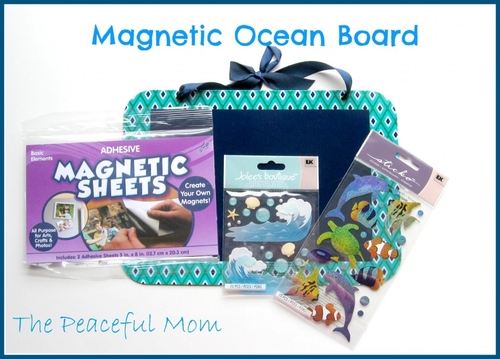 Before the trip: Purchase a metal board (I found this for $.97 in the seasonal section of Walmart), ocean themed stickers and magnetic sheets. (You can also use a non-aluminum cookie sheet and recycle advertising magnets.) Place stickers on a magnet sheet and cut around the edges (make sure to put the stickers on the non-magnetic side so they will cling to the board). Place magnets in a zipper plastic sandwich bag and attach bag to the back of the board.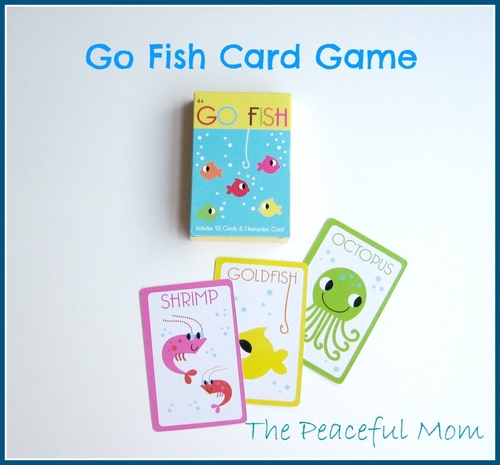 Go Fish Card Game- Play a fishy card game and try to catch all four of one sea creature.
Before the trip: Purchase a Go Fish card game (this was $.97 in the seasonal section at Walmart) or use a regular deck of cards. So the cards don't slide around in the car, bring along a plastic sandwich container for each person to store their matches in and one extra to place the "draw" deck in.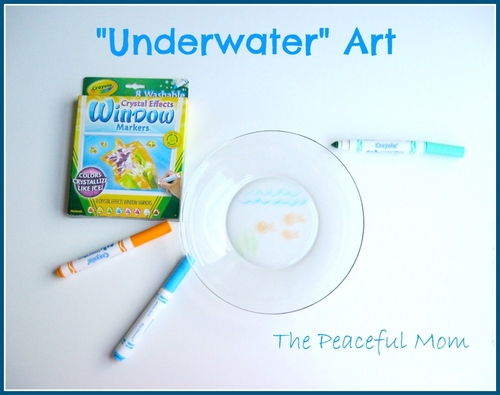 "Underwater" Art–Use the special markers to draw an "underwater" view on your window.
Before the trip: Purchase washable "window" markers. Note: As you can see, the markers pictured above don't make a very dark impression, but my kids don't mind because it's so much fun to draw on the window!
Felt Ocean Scene-Create fish, sharks and other sea creatures using these felt pieces.
Before the trip: Purchase colored felt sheets. Glue a blue felt sheet onto a matching piece of poster board or other cardboard. Cut basic shapes (circles of different sizes, ovals, triangles, etc.) from other colors of felt and place them in a zipper plastic sandwich bag. Attach the bag to the back of the felt board with tape.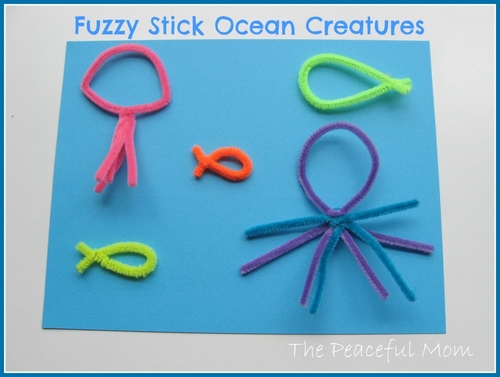 Fuzzy Stick Ocean Creatures- Form the fuzzy sticks into the shape of fish and other sea creatures.
Before the Trip: Purchase colored fuzzy sticks (pipe cleaners). Note: You will want to supervise young children closely because these have sharp points on the end.
NOTE: I am a huge fan of letting kids get bored. They are much more open to creative suggestions when they have not been constantly bombarded by electronic stimuli and when they have had a little bit of time with "nothing to do".
When my children were younger, I used activity bags as a special treat on our road trips. I let the children sit for a long while reading or playing with a toy until they finally got to the point where I could see that frustration was about to set in. At that point, I gave them an activity bag.
If they did everything in the bag in 15 minutes, they could sit for a few minutes and stare out the window or think about playing with something from the bag again. I strongly believe that we should not entertain our children every minute of the day (or the car trip). The longer they can go between activities, the better it will be for you and them, so don't give them all of the bags in the first hour. 

  With in-car dvd players, you can split up the ride with a couple of dvds as well.

You May Also Enjoy: