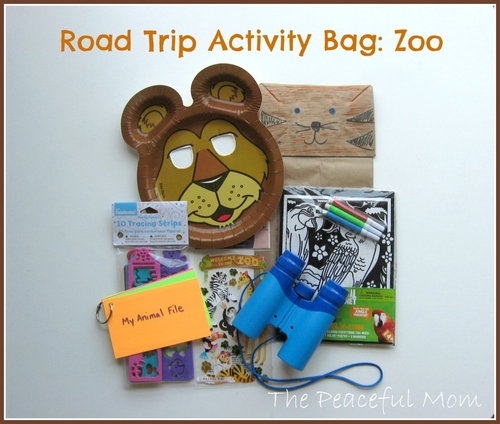 Taking a road trip? Every day this week I'll be sharing a make-ahead road trip activity bag with simple snacks and activities to keep your kids happy (and you too!). Today's bag has a zoo theme.
Store activities in brown paper lunch bags or zipper plastic bags and give them out once an hour (or at longer intervals if your kids are still interested in the bag they currently have).
ACTIVITIES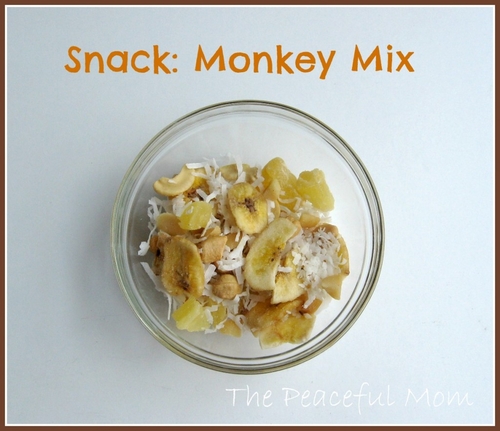 Monkey Mix Snack- Eat like a monkey!
Monkey Mix Recipe
Mix equal parts dried pineapple (or other dried fruit), banana chips and coconut. You can also add nuts and chocolate chips.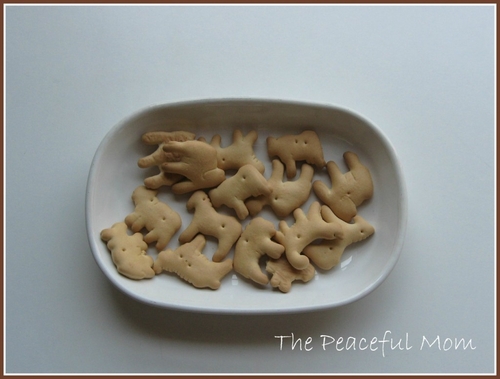 Animal Crackers make a great "zoo" snack too!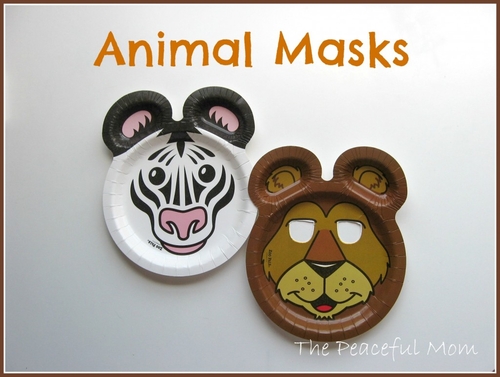 Animal Mask- Hold your mask up to your face and make animal noises.
Before the trip: Take a sharp pair of scissors (parents only) and cut the eyes out of several Zoo Pals TM plates. You can attach a popsicle stick to the bottom or attach an elastic band.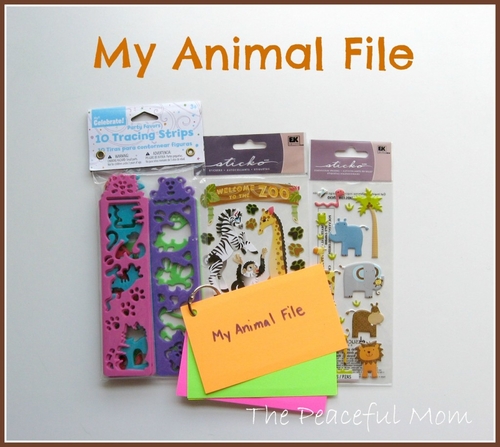 My Animal File– Place stickers on the cards and write the animals names. You can also use animal stencils to draw animals. Later you can find facts for each animal and write them on the back of the card.
Before the trip: Hole punch colored index cards and put them on a ring or tie them together with ribbon. You can also buy index card books. Keep it simple, or spend time printing out animal facts that match the animals on your stickers and glue the facts to the individual cards.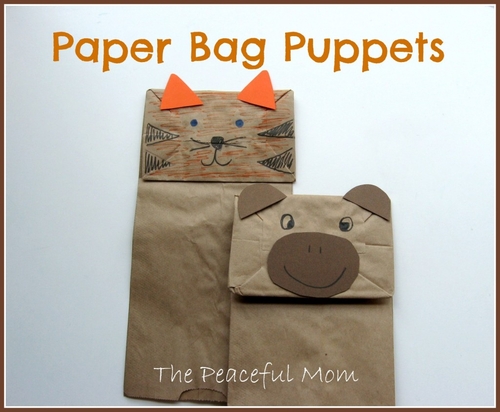 Paper Bag Puppets– Draw your favorite animal. Place your hand in the bag to use it as a puppet.
Before the trip: All you need for the basic project is a paper bag and crayons or markers. To make the puppets look nicer you can cut paper ears, noses, eyes, etc. from colored paper and place them in a plastic zipper sandwich bag with a glue stick or cellophane tape for your child to attach during the trip.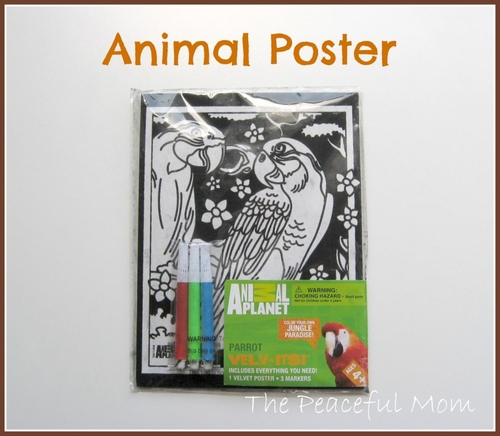 Animal Poster (or coloring page)- Color the animal and show mom and dad your artwork!
Before the trip: Purchase velvet posters at the dollar store or Walmart (this mini poster was $.97 in the seasonal aisle of my Walmart). You can also print animal coloring sheets from the internet.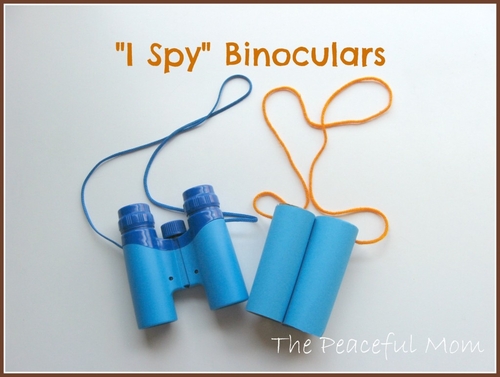 I Spy-Go an an animal safari! Use the binoculars to find animals as you are riding in the car.


Before the trip: Purchase a pair of binoculars from the dollar store or make your own by covering two toilet paper rolls with colored paper, attaching them together and adding a string.
NOTE: I am a huge fan of letting kids get bored. They are much more open to creative suggestions when they have not been constantly bombarded by electronic stimuli and when they have had a little bit of time with "nothing to do".
When my children were younger, I used activity bags as a special treat on our road trips. I let the children sit for a long while reading or playing with a toy until they finally got to the point where I could see that frustration was about to set in. At that point, I gave them an activity bag.
If they did everything in the bag in 15 minutes, they could sit for a few minutes and stare out the window or think about playing with something from the bag again. I strongly believe that we should not entertain our children every minute of the day (or the car trip). The longer they can go between activities, the better it will be for you and them, so don't give them all of the bags in the first hour. 🙂 With in-car dvd players, you can split up the ride with a couple of dvds as well.

You May Also Enjoy: