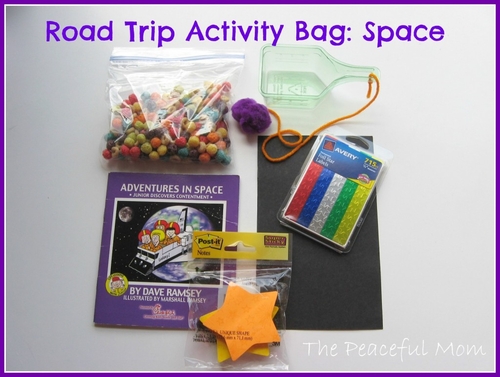 Taking a road trip? Every day this week I'll be sharing a make-ahead road trip activity bag with simple snacks and activities to keep your kids happy (and you too!). Today's theme is Space.
Store activities in brown paper lunch bags or zipper plastic bags and give them out once an hour (or at longer intervals if your kids are still interested in the bag they currently have).
ACTIVITIES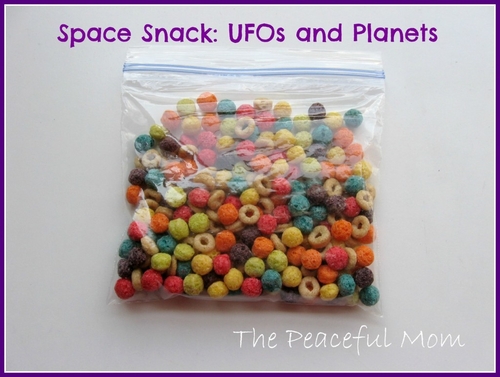 Space Snack- Enjoy your planets (fruit puff cereal) and ufos (round oat cereal). (Another fun snack is "astronaut" food like applesauce in a squeeze tube.)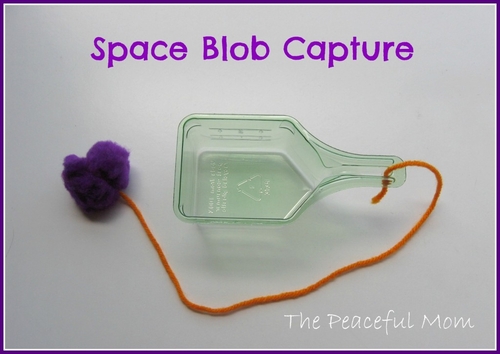 Space Blob Capture-Try to capture the space blob (pom pom) in the containment unit (scoop).
Materials: 
detergent scoop or measuring cup
string or yarn
pom pom
Instructions:
Using a sharp object, carefully poke a small hole in the end of the detergent cup (parents only). Thread a piece of string or yarn through the hole and tie knots so that the string cannot slip back through the hole, or secure the end of the string with tape. Tie the other end of the string around a pom pom.
To play the game, try to catch the pom pom in the scoop. Note: The longer the string, the more difficult the game is.

Starry Night- Place star stickers on black construction paper or card stock to make your own constellation. You can also use neon gel pens to draw on the paper.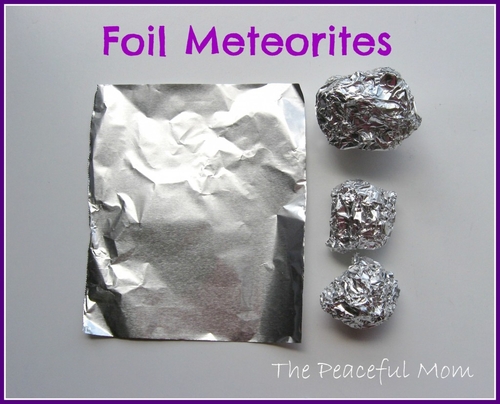 Foil Meteorites- Crumple aluminum foil sheets into balls to make "meteorites". You can use all the sheets to make one large meteorite or make multiple small ones. When you get to a rest stop, take turns throwing the meteorites into a cup or bag. (Note: For safety reasons, don't allow kids to throw these while you are driving.)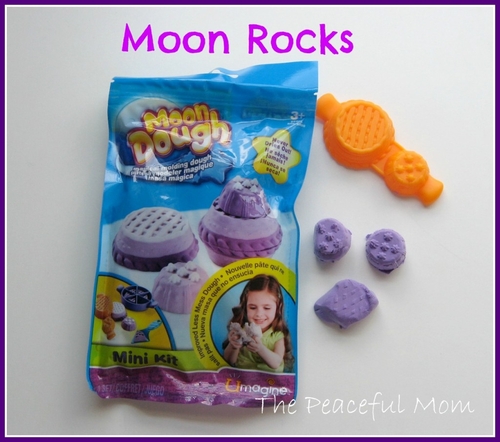 Moon Rocks- Use Moon Dough to create moon rocks or planets of your own. (This kit cost $1.97 at my local Walmart.)
Note: Moon Dough is a little crumbly.You may want to leave it in a plastic sandwich zipper bag if small children will be playing with it and supervise them closely. It's also a good idea to bring along a plastic bag to store everything in if you let your child open the bag on the trip.
Other Activities
Space Notes– Use star shaped sticky notes to draw aliens or write notes to mom and dad.
Reading- Add a space-themed book to the bag for children who can read.
NOTE: I am a huge fan of letting kids get bored. They are much more open to creative suggestions when they have not been constantly bombarded by electronic stimuli and when they have had a little bit of time with "nothing to do".
When my children were younger, I used activity bags as a special treat on our road trips. I let the children sit for a long while reading or playing with a toy until they finally got to the point where I could see that frustration was about to set in. At that point, I gave them an activity bag.
If they did everything in the bag in 15 minutes, they could sit for a few minutes and stare out the window or think about playing with something from the bag again. I strongly believe that we should not entertain our children every minute of the day (or the car trip). The longer they can go between activities, the better it will be for you and them, so don't give them all of the bags in the first hour. 🙂 With in-car dvd players, you can split up the ride with a couple of dvds as well.
You May Also Enjoy: