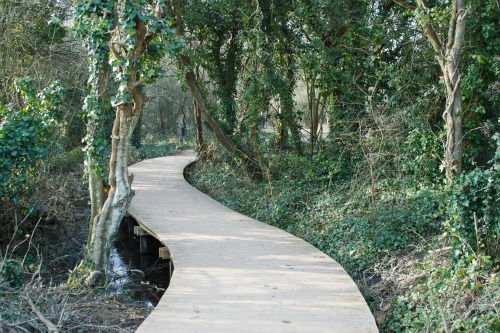 My life can be a little stressful at times and one of my favorite ways to decompress is to walk in a local park. Walking among the trees just makes me more peaceful.
Tuesday morning I had the opportunity to visit the park for a few minutes before my husband had to leave for work. I spent some time praying and thinking about all that I had to get done during the day.
I was almost ready to leave when I walked by a man sitting alone on a bench. He spoke to me, but I continued on without saying anything because we were alone in the park and he didn't look particularly "safe". A few steps later, I felt that God wanted me to go back and talk with him.
Reluctantly, I introduced myself and asked if he needed prayer for anything. He looked at me strangely and responded that he did indeed need prayer. I told him not to tell me anything, but just to let me pray and we would see what God would do.
After a few minutes, God began to show me that that this man felt like a failure and needed healing from emotional wounds he had received from his father. As we prayed, this huge hunk of a man began to cry and God began to bring freedom to him. I had to leave so my husband could go to work, but I continued to pray for him as I walked to my car and I am confident that God is doing a deep work in his life.
God also did a work in me. I am so quick to make my agenda for the day, and while it is important to be wise with my time, I need to consult God about what He would like for me to do. I was reminded once again, that I need to listen every day to make sure that I am doing the things on my Heavenly Father's heart. I need to keep in mind that eternal things are what matter most, not my To Do list.