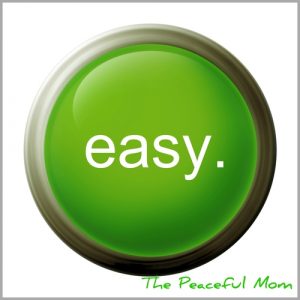 Tuesday Tips-Make life easier!
Today's tip is to make a weekly plan.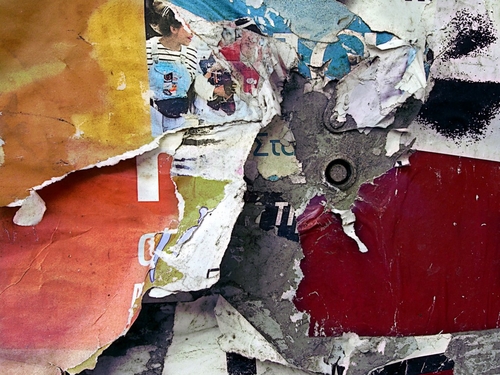 I don't know about you, but my life easily gets out of control and I find that I am not taking care of the things that are most important. Usually the chaos has ensued because I failed to plan and I get too busy taking care of things that are urgent (the phone is ringing, a child is crying, the oven is smoking, etc.), but not necessarily important (eternal).
The last two weeks have been like that for me, so I have re-committed to my weekly planning time on Sunday evenings. I like to plan for the entire week so that I get everything done, but don't end up with one super busy day that leaves me frustrated and exhausted. Looking at a larger chunk of time helps me to bring balance to my life.
Over time, I have changed the tools that I use to plan, but one thing that really helps me is my Weekly Goal Planner.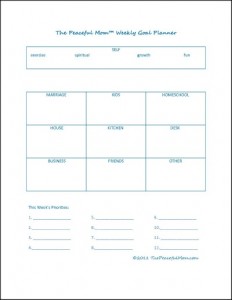 This planner encompasses all of the important areas of my life and keeps them in front of me. When I fail to use the Goal Planner, I definitely see a difference in my life–I feel more disorganized, overwhelmed and guilty for not accomplishing what I want and need to do.  (You can print your own copy by clicking the photo above.)
The goal planner helps me with the big picture, but I also like to write a more specific plan for the week in which I roughly schedule what needs to be done each day. For me personally, scheduling specific times isn't helpful because things come up and quickly get me off track. It does help to have a general plan with items that need to be done during the morning, afternoon and evening. You can see a sample of my weekly plan here.
If you would like to start making a weekly plan, I have several printable planners for you to choose from (or you can create your own). Click the pictures below to read more about each planner.
[I know there are much more technologically advanced ways to stay organized, but I find that writing my plans by hand makes an impression on my mind and I am more likely to stick to the plan.]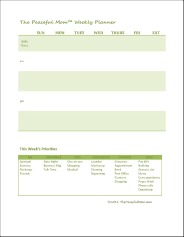 General planner with no specific times.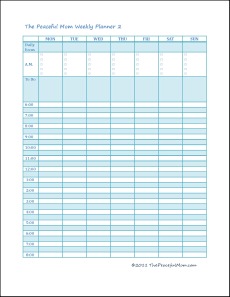 Hourly schedule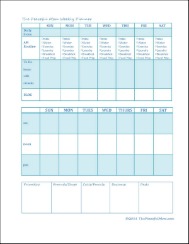 Daily routine and general time frames.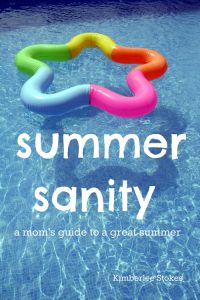 If you need a plan for the summer, check out my new e-book Summer Sanity: A Mom's Guide To A Great Summer. This 62 page book is chock full of simple, frugal and creative ideas like 15 Things To Do With A Paper Bag, 10 Ways To Make Money (for teens) and lots more including easy crafts, snack recipes and planners to make this the best summer yet!
The e-book sells for $5.00, but you can use code JuneFun for the next few days to get the book for just $3.00! That's 40% off and less than the cost of a carton of ice cream. 🙂
Click here to order your Summer Sanity!
Do you make a weekly plan? Has it helped you be more organized? Leave a comment.
You May Also Enjoy: