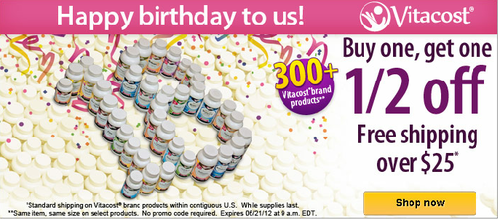 Vitacost has a Buy 1, Get 1 50% off sale starting today PLUS FREE shipping on orders of $25 or more! If you haven't used your FREE $10 credit, you can get some good deals and pay only $15 for $25 worth of Vitacost Brand products.
Remember you can also add 2 FREE samples to your cart (included with every order)!
CLICK HERE to get your FREE $10 credit and start shopping! Click here to use your $10 credit!
*affiliate link