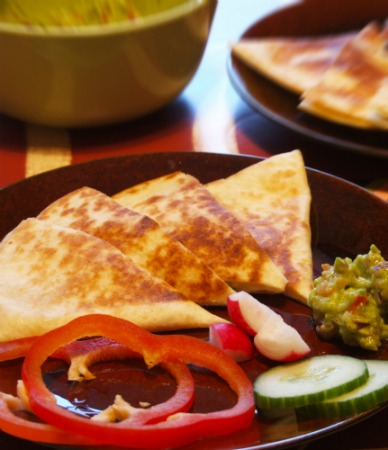 Easy Cheese Quesadillas--Need a simple, quick dinner idea? Try these Easy Cheese Quesadillas!
You can even add leftover chicken and/or veggies to make these more filling.
Ingredients
8- 8 inch flour tortillas (see note)
4 cups shredded cheese
2-3 tablespoons olive oil
salt
guacamole, salsa, sour cream (optional)
Instructions
Heat olive oil in a stainless steel or non-stick skillet over medium-high heat.
Place shredded cheese on a tortilla and fold it in half.
Place the tortilla in the hot oil for 1-2 minutes or until golden brown.
Flip the tortilla and brown the other side.
Sprinkle with salt to taste.
Serve immediately with salsa, guacamole or your favorite veggies.
You can also add pre-cooked shredded chicken or beef, black beans and veggies before cooking.
Notes
To make these gluten free, use corn tortillas (check ingredients) and place cheese between two whole tortillas before frying. Once both sides are browned and the cheese is melted, cut the tortilla into slices.
https://thepeacefulmom.com/2012/06/01/easy-cheese-quesadillas/
I'm linking up at Tasty Tuesdays and Gluten Free Wednesdays!
You May Also Enjoy: