This is a Sponsored post written by me on behalf of MyPoints. All opinions are 100% mine.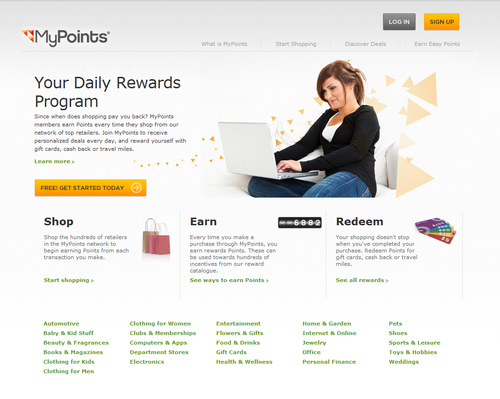 You may have seen my How To Afford Date Night post in which I shared that my husband uses survey sites to earn money and free movie tickets. One of his favorites is My Points.      
MyPoints.com is a site where you can earn points for shopping online, taking surveys, playing games, booking travel, couponing and more.
My husband receives points for reading emails and clicking through to read online advertisements (5 points each). He also completes 2-3 surveys a week which are 10 points if you don't qualify, and more if you do. By spending just a few minutes a day, he earns a FREE movie ticket every two to three months, but there are lots of other rewards available.
You can also earn points by checking out the Great Offers and Deals at MyPoints. MyPoints has relationships with more than 1,000 online retailers like Target, Nordstrom, Sephora, Toys R Us and more.
To sign up for a new account, click here and register using your name, zip code, gender, date of birth and email address. Once you have an account, start earning points for:
*responding to email offers
*taking market research companies' surveys
*shopping online at the MyPoints website
*playing MyPoints branded online games
*clipping and redeeming coupons
*booking travel
*purchasing Gift Cards from Favorite Retailers, Restaurants, and Entertainment
You can Save Money at MyPoints with high value coupons like this Target Coupon for 30% off furniture or this 20% off Bath and Body Works Coupon, and you get points for using the coupons!
When you are ready to redeem your rewards points you can choose gift cards from retailers, theaters, restaurants, airlines, hotels and Pay Pal, as well as Facebook Credits (1500 Points for 75 Facebook Credits). You can even use your points for charitable donations.
My Points has some special offers right now as well:
o New MyPoints Members receive Double Points on the purchases they make in the first 30 days.
o Earn 10 Points for every coupon you print and redeem. Plus, earn 25 Bonus Points when you print and redeem 10 or more coupons.
oWhen friends become MyPoints members, you receive 750 points plus 10% of all the eligible Points your friends earn is awarded to you as Bonus Points. You can earn Points from friends that don't become MyPoints members by referring offers.
You won't get rich, but if you are looking for an easy way to earn some gift cards, check out MyPoints.com. If you would like more information, you can read the Facebook comments here from people who actually use MyPoints.
[Please note: While MyPoints paid me to write this post, I would have written it for free to tell you more about how we earn free movie tickets. Don't tell them though! 🙂 ]