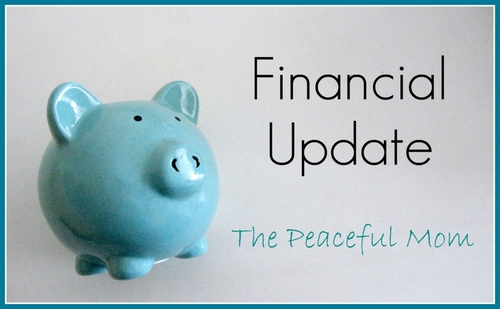 In conjunction with the Living on Less Than $28,000 A Year series, I will be sharing periodic Financial Updates. I won't always give specific numbers, but I thought it might be helpful for those of you in a similar situation to have a little window into the day-to-day decision making process we go through.
May was a difficult month for us. My husband made only $2000 this month which paid for rent, gas and groceries with $230 left over to pay for everything else including utilities, non-food items and our insurance. Thankfully we received a refund of a couple hundred dollars from our previous power company because we changed companies when we moved.
We also spent money on some unplanned expenses:
$100 on clothing
Suddenly my 11 year old hit a growth spurt and outgrew EVERYTHING. Thankfully we were able to find some clothing on sale for her.
My husband didn't have a growth spurt (LOL!), but he did have large holes in his few pairs of shorts. While the holes provide "air conditioning", we are not of the opinion that showing your underwear in public is cool, so we bought him several pairs of shorts.
$56 on non-food and toiletries
I told you about my discontent with DIY laundry detergent, so I purchased a 23 lb container of laundry detergent for $9.95. We only use 2 tablespoons per load so this should last a LONG time!
We also spent $46 on toilet paper and toiletries (body wash, shampoo, etc.). The toilet paper was on sale, so I did stock up on several packs, but this is much more than I would normally spend on non-food in a month. It seemed like we were out of everything at once.
$30 on entertainment and dates
We had free tickets to a local event one Saturday, which included dinner at 5:00 p.m.. We had planned to see a movie afterward with free tickets, but when we arrived, all of the 9 and 10 o'clock seats were sold out. We decided to wait and see the 11:00 show.
By this point, we were really hungry, so we did something very uncharacteristic and bought food at the theater. Our "free" date ended up costing us around $20–a good price considering we had dinner and a movie with snacks, but it was $20 we could have used for other things in the budget.
Thankfully March and April were really good months for us and we were able to save several hundred dollars. If we had not put that money into our second checking account (read more here), we would have been in serious trouble this month. Hopefully my husband will make more this coming month and we can return to our normal budgeting. If this trend continued, we would have to seek other ways to earn some income.
Again, I am sharing private information in the hopes that we can encourage those of you in a similar financial situation. We live on a tight budget and things don't always go as planned. It's tempting to spend "extra" money when we have it, but I am so glad that we saved that money in March and April so that we could pay the bills this month.
How did May go for you? Were you able to save any money? Share in the comments if you would like.