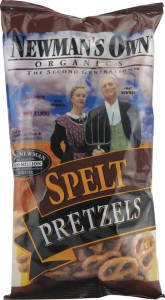 Another great offer from Vitacost*: Newman's Own Organic Items are up to 39% off today! If you haven't used your FREE $10 credit, you can get some great deals and if you order $49 or more, you get FREE shipping!
CLICK HERE* to get your FREE $10 credit!
One particularly good deal is the 7 ounce bag of Newman's Own Organics Spelt Pretzels for $2.40 per bag if you are a Smartphone or Tablet user. Enter Promo Code: MOBILEA25 at checkout. Sale price: $2.67 without promo. Limit 6 Units per customer.