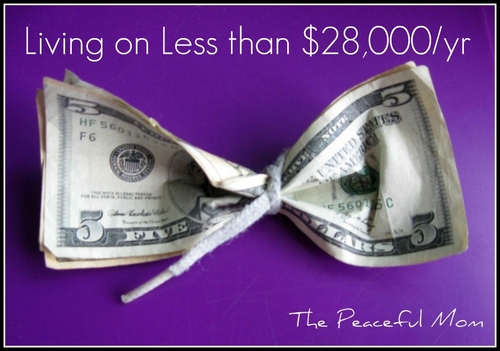 Living on Less Than $28,000 A Year: How our family of six survives (and even thrives) on an income that's less than half the national median income for our family size, and what the government calls "below the poverty line" (less than $29,990 annually). [Read other posts in this series here.]
________________________________________________
Subscribe to my FREE e-notes with 10 minute money-saving and organizing tips PLUS access to my Resource Library
_______________________________________________
So far in this series we've talked about simple ways to take control of your money so you can spend less and save more, but I've personally found that knowing what to do and actually doing it are two completely different issues.
To help motivate you in the DOING part of the equation, I'd like you to meet someone.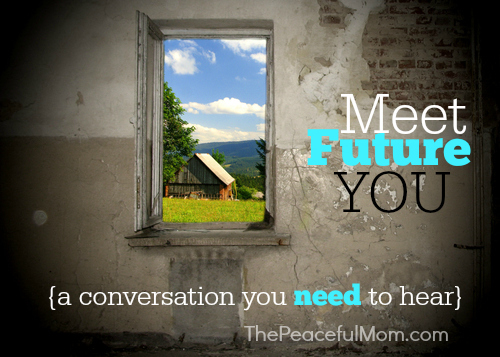 "Hi, I'm FUTURE YOU and I'd like to have a conversation.
I realize that you don't believe I actually exist, but unlike Santa Claus and the Easter Bunny, I really do!
One day in 10 or 15 years you'll meet me. As a matter of fact, you'll BE me and as FUTURE YOU, you'll look back on this conversation and feel one of two things:
a) glad that we had this little talk;
or
b) sad that you didn't really listen.
So, if you'd like to be glad, there are three important tips I'd like to share with you: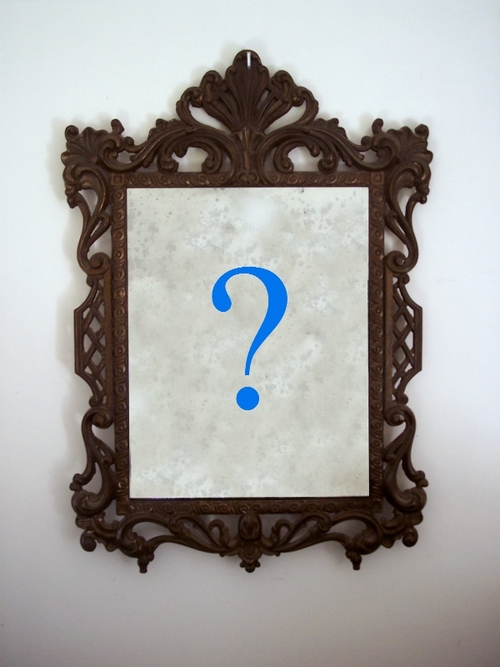 Please be realistic.
Looking through the window to your future, you might imagine it to be completely sunny and beautiful. Right now you may have thoughts like:
"Oh, I'll worry about that later."
"When I'm 30 (40, 50) years old I'll be making twice as much as I am now."
"Oh, it's just this once. I can pay for it next month (or next year, or at some undetermined future time)."
"I'm going to be rich one day and I'll pay off my debt then."
Yes, I want you to dream, but you should also have a backup strategy because, to be honest, most of the time life doesn't go as planned. Maybe you're the exception and your future will always be sunny and bright, but preparing for storms is wise.
By the way, don't expect FUTURE YOU to be any different from NOW YOU unless you choose to do things differently.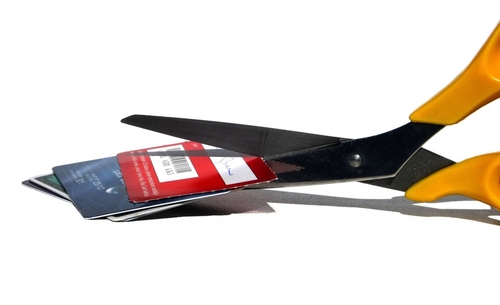 Please don't steal from me.
Every time you use a credit card or purchase something with a payment plan, you take money from me. I know you can't feel my pain right now, but you will.
As FUTURE YOU, I have to do without hundreds of dollars a month from my paycheck because I have to pay for items that you purchased on credit.
I would really prefer to have that money to do fun things like eat out occasionally, buy some new clothes or save for a vacation, but it's too bad because I have to use it to pay for all the things you bought years ago that we don't even have any more.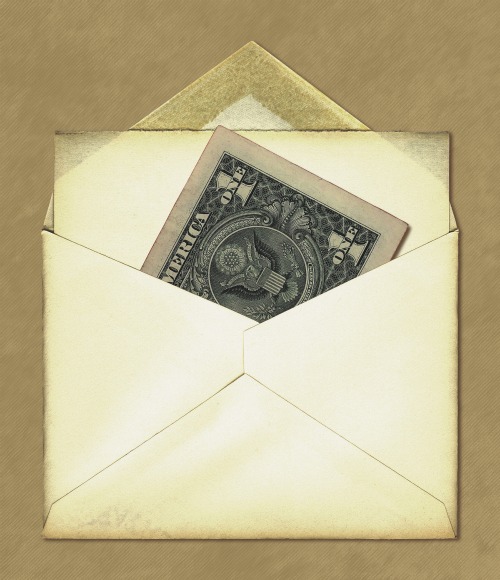 Please send money.
Not only should you stop taking money FROM me, you might want to send some money TO me. Because you don't really think I exist, it's easy to spend everything you have now. The problem is, FUTURE YOU could really use the money.
I have more responsibilities than you have now, and life costs more. If you simply skip eating out once or twice each week and send me that money, we could have a nice little pile of cash by the time you meet me.
And that would free us to do what we WANT to do instead of just doing what we HAVE to do.
Well, I've enjoyed our little chat. I really hope you'll listen.
Your life as FUTURE YOU depends on it."
next post: Microwave Mentality
Click here to read other posts in this series.