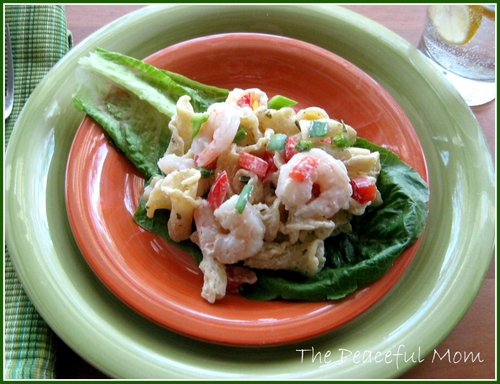 ________________________________________________________
If you're here from the Virtual Barbeque–WELCOME!
You can join me on Twitter or Facebook for instant updates or subscribe to my FREE e-newsletter to get posts right in your inbox!
_________________________________________________________
I enjoy creating new recipes, so I was super excited when Jen at Balancing Beauty and Bedlam asked me to create a dish for the Philadelphia Cooking Creme Virtual Barbecue she's hosting today. With summer coming, I knew that I wanted to create a dish with shrimp. Other than burgers on the grill, seafood really reminds me of summer fun.
I also knew that I wanted to create a cold pasta salad and when I found this beautiful flute-shaped campanelle pasta, I just had to use it in the recipe. Doesn't the delicate flower shape just make you want to eat it?
After trying all four of the Philadelphia Cooking Creme flavors, we decided that the Italian Cheese and Herb was simply wonderful in combination with the shrimp.
If you'd like to try my newest creation, here's the very simple recipe (super simple, but I promise you, it's delish!):
Simple Shrimp Campanelle Salad Recipe
A simple and delish dish from ThePeacefulMom.com!
Ingredients
1 16 ounce box campanelle pasta
1 container Kraft Philadelphia Cooking Creme--Italian Cheese and Herb flavor
1/2 pound medium cooked shrimp-- rinsed, peeled and deveined
1 red bell pepper, diced
2 green onion stalks, finely chopped
Instructions
Cook pasta according to package directions (Don't overcook, you want it al dente).
Remove pan from heat and pour pasta into a collander to drain.
Add Philadelphia Italian Herb Cooking Creme to the hot pan.
Stir until the Cooking Creme thins and reaches a smooth consistency.
Add pasta and shrimp to the pan and stir to coat evenly.
Add peppers and green onions and mix well.
Chill for 1-4 hours. Enjoy!
https://thepeacefulmom.com/2012/05/23/shrimp-campanelle-salad-recipe/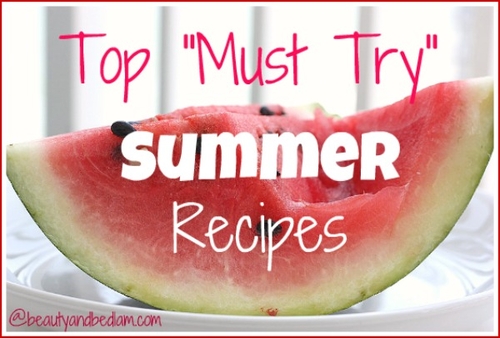 Come join our Virtual Summer BBQ, hosted by Balancing Beauty and Bedlam.
Enjoy browsing these great recipes:
Creamy BLT Pasta Salad With Pesto Sauce – 4tunate
Lemon Berry Cheesecake Bars – Saving Dollars and Sense
Creamy Potato Salad – Mommy Hates Cooking
Creamy Italian Pasta Salad – Life in Grace
Southwest Chicken Salad – My Home Sweet Home
Creamy Bacon and Tomato Potato Salad – Lynn's Kitchen Adventures
Creamy Jalapeno Ranch Dip – Saving with Shellie
Philly Creamy Deviled Eggs – Smockity Frocks
and Shrimp Campanelle Salad – The Peaceful Mom (me!)
If you like my recipe, you can vote for it by leaving a comment on this post.
I would really appreciate it because the blogger with the most comments during the next 24 hours will win $500! Only one comment per person please (and thanks for helping me win 🙂 ).
You May Also Enjoy: