This is a Sponsored post written by me on behalf of Triad Retail Media. All opinions are 100% mine.
Laundry, laundry, laundry, laundry–It's the one constant in a mom's life other than preparing meals.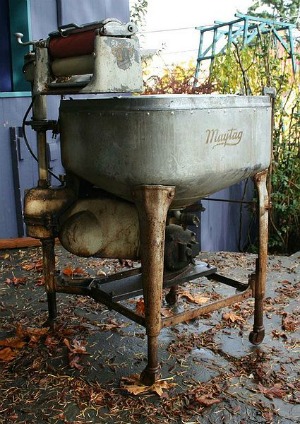 I am so glad that I don't have to wash clothes the way my grandmother did. This machine is only a slight improvement over taking the laundry to the river and wringing the clothes out on a rock–haha!
Thankfully there have been some definite improvements in the laundry department since grandma's day and one of those is stain remover.
I don't know how it works at your house, but I have a couple of family members (who shall go unnamed 😉 ) who constantly have stains on their clothing. The especially difficult ones to deal with are spaghetti sauce or salsa, and anything with oil in it like salad dressing.
Since we suffer from so much "stainage", I was really excited when the folks at Shout recently sent me a sample of Shout® Trigger to try out.
Shout® Trigger is a  Triple-Acting Formula that clings to stains, penetrates them and lifts them away. It comes in a convenient trigger dispenser and is safe for all colorfast washables (test on a small area first if you are unsure).
It's best to use Shout® on fresh stains and to apply it right before washing so that it doesn't dry on your clothing. I found that it worked well on fresh stains, but not as well on older stains.
You can buy Shout® Trigger at Walmart and click here to get a $.50/1 coupon!