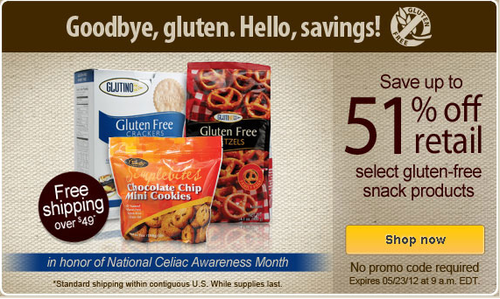 Another great offer from Vitacost: Gluten Free Items up to 51% off! If you haven't used your FREE $10 credit, you can get some great deals and if you order $49 or more, you get FREE shipping!
CLICK HERE to get your FREE $10 credit!
Once you get your credit, click here to shop Vitacost.com and get today's deal or check out these deals:
Glutino GF Pretzel Sticks $3.83 per bag
Pamela's GF Chocolate Chip Cookies $2.87 per bag
Lundberg GF Rice Chips–Fiesta Lime flavor $2.30 per bag
PLUS LOTS MORE!
Click here for more GLUTEN FREE DEALS!
*affliliate link