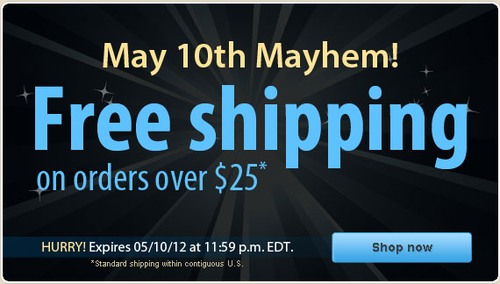 Another great offer from Vitacost: TODAY ONLY get FREE shipping on orders $25 and up! If you haven't used your FREE $10 credit, you can get $26 worth of products and pay only $15 including shipping!
Vitacost has lots of gluten free, organic and natural products and today they also have 70% off Tom's  of Maine Natural toothpaste.
CLICK HERE to get your FREE $10 credit!
Once you get your credit, click here to shop Vitacost.com and get today's deal or check out these deals:
Enjoy Life Soft Baked Cookies Double Chocolate Brownie $3.29 (reg. $4.59)
Enviro Brushed Stainless Steel 20 oz Water Bottle $6.25 (reg. $10.49)
Nature's Path Organic Flaxplus Granola Bars $3.57 (reg. $5.29)
Alba Facial Sunscreen SPF30 $5.96 (reg. $11)
Clif Kid Organic Zbar Chocolate Chip $3.45 (reg. $5.19)
Clif Kid Organic Zbar Honey Graham $3.45 (reg. $5.19)
You can also add 2 FREE samples to your cart (included with every order)!
*affiliate link