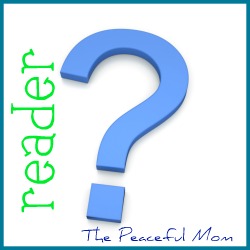 Q: I noticed that you talk about date night a lot and that you go on dates fairly often with your husband. How do you afford it? 
A: Yes, we love date night! We believe that marriage is the primary relationship of the family and that we have to make each other a priority. When our children see us choosing to spend time with each other, they will be more likely to have a healthy marriage themselves.
To maintain our relationship we need communication, time together and fun. Date night is the perfect answer!
So how do we accomplish frequent date nights on a budget?


Be Creative
We consider date night to be any fun event without our children. I suppose that sometimes it's just spending time together, but by calling it "date night" it seems special. Suddenly a trip to the home improvement store becomes relationship-building instead of just another errand.
Your dates are only limited by your imagination. We have taken self-guided tours of quaint downtown areas, had lunch in the park while reading short stories to each other, hiked in the woods and painted pottery at a studio offering "buy one get one" night. When we have no money to go out, we'll check out a movie from the library and have a date-in (the children have strict instructions not to bother us during this time, but if you have little ones, you will have to do this after they're asleep.)
Be Cheap
We like to take advantage of free events in our area such as festivals, free concerts and free days at local museums. For other free date options, check with local universities for visiting speakers or musical performances; read your local newspaper or check online for community events; contact the library about special programs; or take advantage of free classes offered by art galleries or your extension service.
My husband loves to see movies in the theater, but tickets are expensive so he has found ways to earn free movie tickets and/or cash for dates:
(Click here for more recommended online survey sites.)
It takes some time, but by using these survey sites we are able to go to movies for FREE every couple of months. We just saw the Avengers movie using reward tickets.
Skip Dinner
When most people think of date night they think of dinner and a movie, but that is probably your most expensive option. We almost always eat dinner at home and then purchase dessert out or skip food altogether. One of my favorite dates is to go out after dark on a cool night and ride with the windows down while listening to music–very simple, but very relaxing.
If you want to enjoy a meal out, lunch prices are usually cheaper. We like to visit a local Cuban cafe where we can get authentic Cuban sandwiches for just $5. We drink water instead of ordering soda and have an enjoyable time for the cost of two specialty coffees.
You can also sign up for free local deal sites like Living Social. We actually found our Cuban cafe from a coupon offer on Living Social, and even after we used the coupon, we continued to go back.
On a side note, one way we try to make the evening special is by trying not to talk about problems. Keeping the conversation fun and light means we both have an enjoyable time and feel closer to each other. Often some very productive conversations happen after we've enjoyed a relaxing evening avoiding our issues. 🙂
Our children will be grown and out of the house within a few years. While we love them dearly and enjoy spending time with them, if we focus completely on them to the exclusion of our marriage, we will have a difficult time re-connecting once they leave. Date night ensures that we stay happily married now, and later.
What cheap date night ideas do you have? Leave a comment. 🙂
next post: Meet Future You
Click here to read other posts in this series. 
You May Also Enjoy: