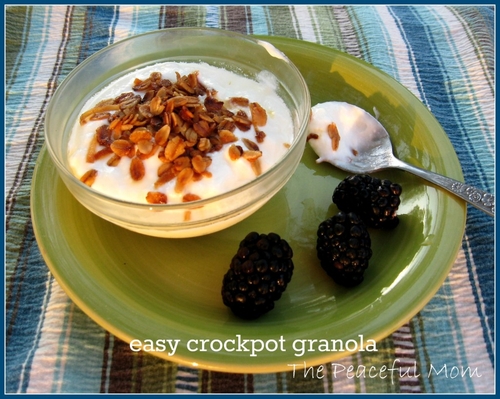 Earlier this week we made this Easy Crockpot Granola to serve with our yogurt. Keep the kitchen cool instead of heating up the oven! 
Easy Crockpot Granola (gluten free)
A super easy recipe from ThePeacefulMom.com!
Ingredients
5 cups rolled oats (we use Bob's Red Mill Gluten Free Rolled Oats)
1 cup sweetened coconut flakes (use unsweetened if you prefer)
1 teaspoon cinnamon
1/2 cup oil (we use extra virgin olive oil, coconut oil would also be good)
1/2 cup honey
1 teaspoon vanilla extract
Instructions
Add oats, coconut and cinnamon to crockpot and stir to combine.
Add oil and honey (if you use the same measuring cup you used for the oil to measure the honey, it will slide out of the cup more easily.)
Add vanilla.
Stir until all ingredients are well incorporated.
Cook on low for one hour with the lid of the crockpot cracked.
Stir granola and replace lid (slightly open).
Cook for 2 additional hours, stirring every 30 minutes for the first hour and every 15 minutes for the last hour. This burns easily!
Store in an airtight container in the refrigerator.
Notes
You can also add pecans (or other nuts) and dried fruit to the mixture.
https://thepeacefulmom.com/2012/05/09/easy-crockpot-granola/
I'm linking up at Tasty Tuesday and Gluten Free Wednesday!