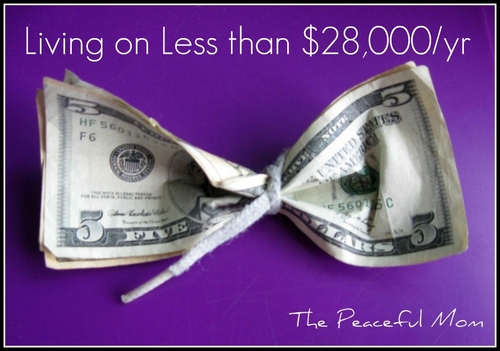 Living on Less Than $28,000 A Year: How our family of six survives (and even thrives) on an income that is less than half the national median income, and what the government calls "below the poverty line" (less than $29,990 annually) for our family size. [Read other posts in this series here.]
________________________________________________
Join me on Twitter or Facebook for instant updates or subscribe to my FREE e-newsletter to get posts right in your inbox!
_______________________________________________
In my last post, I shared how we were motivated to get our finances in order because we made the connection between small every day decisions and the effect they have on our future. One of those small every day decisions we make differently now is choosing to drink only water.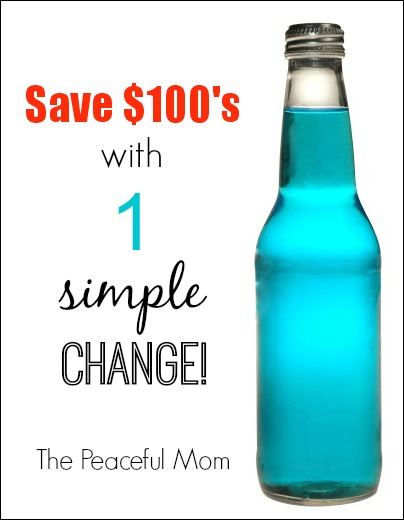 If you read my post here then you already know our view on the difference between necessity food and entertainment food. We view drinks the same way: only water is necessary, all other drinks are optional (some would say a "luxury").
That means we don't drink alcohol or coffee (don't scream at me please!), we use milk on cereal or in recipes only, and we reserve juice for frozen juice pops in the warmer months. I purchase soda occasionally if we are having a birthday party, and I have a box of tea bags for the occasional cup of hot tea my husband drinks in the colder months, but other than that we drink water. (I do also occasionally buy the kids "icees" for a treat.)
This choice reflects our primary Money Philosophy: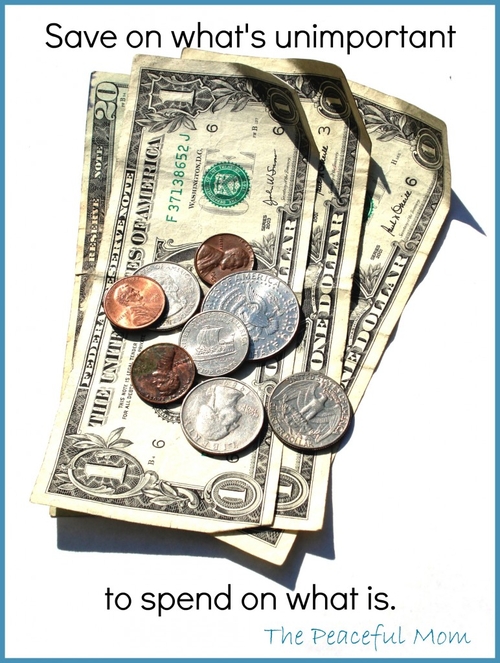 Consuming coffee, soda and juice is not a priority for us, and according to our pediatrician limiting juice and cow's milk is a healthier alternative for children.
Before you discard this idea as too radical, consider the ways that making this daily "sacrifice" has benefitted our family:

Lower Grocery Bill
The first benefit of drinking water is that our weekly grocery bill is lower. Two liter bottles of soft drinks cost around $1.39 in our area, while juice averages $2.99 a bottle. There are no double coupon stores in my area, but by waiting for a sale and using a coupon, I can buy a 46 ounce bottle of juice for around $1.50.
Even with this savings, our family of six would spend $5.78 a week buying two bottles of soda and two bottles of juice. By drinking water instead we save a minimum of $300 on our annual grocery spending.

More Entertainment Value
Another way that drinking water benefits our family is by enabling us to get more "bang for our buck" with our entertainment spending, which means we get to have fun more often.
We normally go out to eat as a family only three or four times a year, but drinking water rather than a $2.50 soda during a restaurant visit saves $15 for our family of six. That $15 can pay for a drive thru run or one third of another meal out for the family. By drinking water we are able to enjoy more entertainment because we spend less on each event.
We also save money in this budget category by choosing to skip daily $5.00 specialty coffees. Not only do we skip the "Five Bucks" shops, we also avoid the fast food chain dollar coffee. Spending $1 a day, five days a week adds up to $260 a year. That $260 can be put into savings or used to pay for a special event like an amusement park visit or camping trip for our family.
While we try to spend less on entertainment, we don't cut it out entirely. We have personally found that denying ourselves entertainment in order to save money eventually results in a huge splurge, which we justify by the lack of entertainment spending during the previous months. We have found it easier to stick to our budget and savings goals by having cheaper fun more often.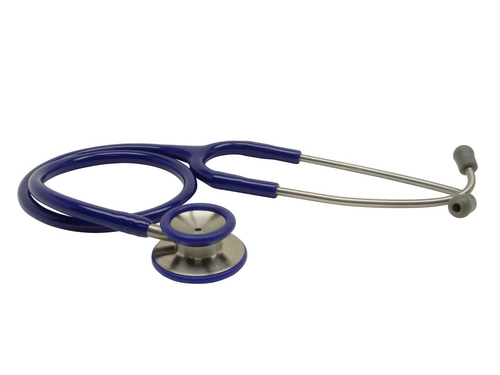 Fewer Medical Expenditures
A less obvious benefit from drinking water is lower doctor and dentist bills. You can do your own research, but I have read that excessively drinking coffee and soda rather than water can lead to dehydration which causes a multitude of health problems ranging from dry skin, fatigue and memory loss to more serious issues such as low blood pressure, depression and heart problems. According to the National Institutes of Health, the caffeine in coffee and energy drinks can cause:
Rapid heart rate
Anxiety
Depression
Difficulty sleeping
Nausea
Restlessness
Tremors
Choosing juice might seem to be a better alternative than soda, but studies have shown that children who drink large amounts of juice have a higher incidence of tooth decay. Drinking juice also increases blood sugar rapidly, which can lead to insulin resistance and eventually type 2 diabetes in adults. I have also read that cow's milk has been linked to some health problems as well.
While I cannot prove a direct correlation, I believe that our elimination of caffeine, reduction of milk consumption and increase of water consumption have contributed to the fact that we rarely have doctor visits, nor do we have costly maintenance medications to deal with medical problems. If we avoid just one doctor visit (average $150 ) and one dental filling (average $135) per year, we save $285 per person or $1710 a year for our family of six.
Does this seem too extreme to you? You may not be ready to completely cut out all drinks except water, but if you have a truly important financial goal that you want to meet, maybe it's worth cutting back on costly drinks for a short time so that you can use the money to fulfill your goal or dream. Instead of thinking of cutting back as deprivation, consider your choice to be a small sacrifice in order to bring about a positive result in your life.
What do you think about our strategy? Feel free to leave a comment, but please be kind and respectful. 🙂
Please note: I am sharing my opinion and our personal choice. Nothing in this post should be construed as medical or professional advice. Please do your own research and make the decisions that are best for your family.
next post: How Do You Afford Date Nights?
Click here to read other posts in this series.