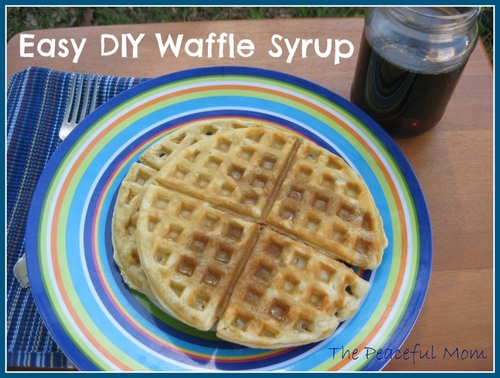 We recently ran out of syrup at my house, which is disappointing when you're about to bite into a delicious homemade waffle. Thankfully I found a recipe in an old cookbook I had. I adapted it and thought I would share it with you in the event of a syrup emergency at your house. 🙂
An easy recipe from ThePeacefulMom.com!
Ingredients
1 cup brown sugar
1/2 cup water
1/2 teaspoon vanilla
1/4 cup butter (optional but makes it yummy!)
Instructions
Place water, sugar and vanilla in a medium size pan over medium high heat.
Slowly bring to a boil.
Stir constantly until sugar is completely dissolved.
Add butter and stir until melted.
Serve warm or refrigerate in a glass jar.
Notes
For a family size serving:
3 cups brown sugar; 1 1/2 cups water; 1 1/2 teaspoons vanilla; 1/2 cup butter
*This syrup has a runny consistency but does thicken a little when refrigerated. I haven't tried it, but you could probably use sucanat (a natural sweetener) instead of the sugar.
https://thepeacefulmom.com/2012/05/02/easy-diy-waffle-syrup/
I'm linking up at Tasty Tuesday and Gluten Free Wednesdays!