[I'm re-posting this today for someone. :)]
As I mentioned in my previous post, in the coming weeks I will be sharing some of the factors that lead me out of debilitating depression. The first thing that enabled me to heal was re-establishing my relationship with God and receiving His love for me.
Learning the Truth
I grew up in church and knew that God "loved" me, but so what? He loves everybody, right? As I have read the Bible and talked to God in prayer, though, I have learned that His love for me is very personal and individual. He knows me and does specific things just for me. He truly is a loving Father.
Gaining a deep heart understanding that my Heavenly Father loves me unconditionally and uncontrollably brings peace to my mind and gives me a foundation from which I can handle the stress in my life.
If you have been wounded in childhood by your parents or other authority figures, it is safe to say that you have a distorted view of who God is. I did too, and I am still learning the truth every day. The good news is that God wants to reveal His love and compassion to us in meaningful, personal ways.
Meditating
Reading and meditating on encouraging Bible verses has really helped me to heal and to get to know God better. At first I would write individual verse on copy paper and tape them on my walls. I also added post-it notes to my bathroom mirror and taped index cards with verses to my car dashboard–anything to keep the truth in front of me.
A couple of my favorite verses:
Psalm 27:10-"When my father and mother forsake me, then the Lord will take care of me." (NKJV)

Zephaniah3:17- "The Lord your God is with you, He is mighty to save. He will take great delight in you. He will quiet you with His love, He will rejoice over you with singing."
Listening
As I have continued in my relationship with God, I have learned that true worship music heals my soul and draws me closer to Him. You can find some of my favorite music here and here.
Sometimes I will just lie in my bed listening to the music and thinking about who God is. When I'm done I feel fueled for whatever life hands me.
My relationship with God is the single most important factor in my mental health. Knowing that He loves me so deeply makes life worth living.
If you deal with depression, why not try reconnecting with God? He really does love you in ways that you can't even comprehend. Rest in His love for you today.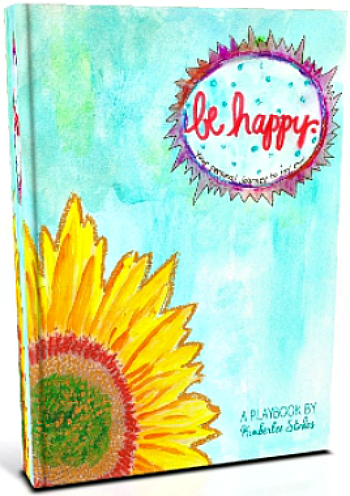 For more on connecting spiritually and finding true joy in your life check out "be happy". Filled with practical, real-life tips and tools that I use in my personal life this ebook will enable you to find the peace and joy you've been looking for!
Please Note: This post is not intended as medical or professional advice. I am just a mom who has dealt with depression in the past and I am sharing some ways I learned to cope with it. Some depression needs to be treated medically and you should consult your doctor or other mental health professional if your circumstances require it.
You May Also Enjoy: