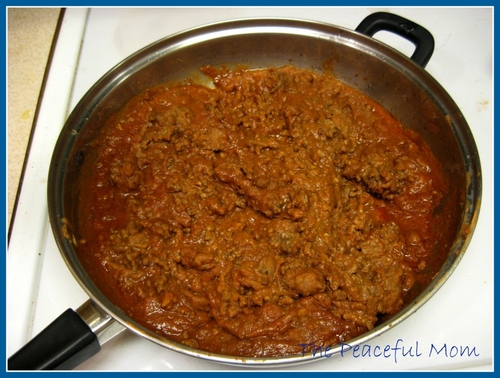 We have decided that this is our very favorite way to make tacos. You can also use it to make burritos or serve it over corn chips with taco toppings.
A yummy and versatile recipe from ThePeacefulMom.com!
Ingredients
2 tablespoons olive oil
1 medium onion, diced
2 pounds ground beef
2 tablespoons chili powder
1 tablespoon ground cumin
1 tablespoon garlic salt
1-16 ounce can refried beans
1- 6 ounce can tomato paste
3-4 tablespoons water
Instructions
Saute onions in olive oil until almost translucent.
Add ground beef and brown.
Add spices, beans and tomato paste.
Stir and cook until all ingredients are well incorporated.
Stir in water to thin the consistency of the mixture.
Heat through.
Use as taco or burrito filling or freeze for later use.
https://thepeacefulmom.com/2012/04/15/beantastic-taco-meat-recipe/
You May Also Enjoy: