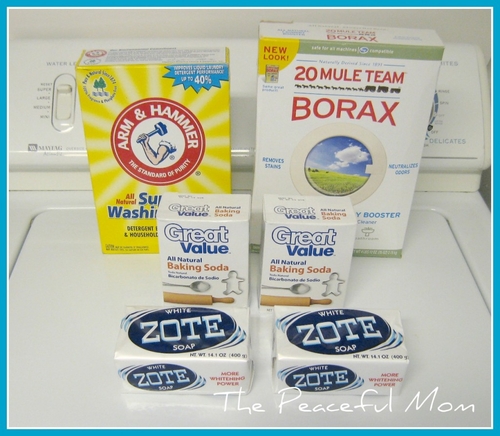 DIY Laundry Detergent Update: You may have read my post here about trying the DIY laundry detergent I had seen all over Pinterest.
About 2 weeks into my experiment I decided to add the Purex Fabric Softener Crystals because I didn't like the smell of the clothes. It helped some.
I can now say that after using the homemade detergent for 2 months, it is a definite bust. The last couple of weeks our clothes have begun to have a weird sour kind of smell. I thought that maybe it was because I hang them to dry and they were staying damp too long, so I did a few loads and dried them in the dryer–same smell.
I checked my washing machine and even called our water department to have them test our water. The only conclusion that I can come to is that the detergent is the cause. Interestingly enough, my sister who lives in another state and who was using the same recipe that I used, recently had the same problem, so we have both decided to return to purchasing store bought detergent.
I will be buying the cheapest powder brand, which in my area is Sun (around $2.48 for 42 ounces). The box says 40 loads, but I am going to use two tablespoons of detergent for a few loads and see if the clothes are clean. My mother taught me to test the water to see if it feels soapy. If it does, there is enough detergent. [By the way, powder detergent is almost always cheaper than liquid.]
Have you used this homemade detergent recipe? What were your results? Leave a comment. 🙂
You May Also Enjoy: