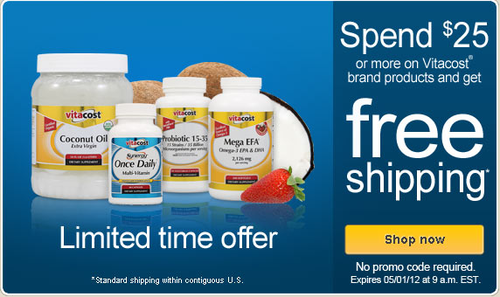 Vitacost has a new FREE shipping offer good until May 1st: Order $25 or more and get FREE shipping. If you are new to the Vitacost Rewards program, you can get a FREE $10 credit. This means you can order $25 worth of products and pay only $15 including shipping!
CLICK HERE to get your FREE $10 credit!
Once you receive your credit, check out all the great deals Vitacost has this week. You can get select vitamin supplements Buy One Get One Free by using promo  code: VBOGOE at checkout (through May 2, 2012).
We recently ordered some great gluten free items like Annie's Gluten Free Mac n Cheese, Annie's Gluten Free Bunny Cookies and Bob's Red Mill All Purpose Gluten Free Baking Flour.
They also have supplements like the cod liver oil capsules (great source of vitamin D) my son takes.
(Note: Affiliate link)