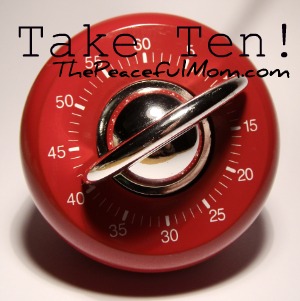 Take TenTM-Improve your life ten minutes at a time!
"The key to success whether you are trying to lose weight, break a bad habit or save money on your grocery bill is to consistently apply small changes over time."

p. 27  Save More, Clip Less
One way I incorporate this principle of small changes over time is to choose a weekly project to work on ten minutes a day. Knowing it's only ten minutes helps me to get started–even if the project seems overwhelming at first. Working on the goal daily helps me to develop discipline (hate the word, love the effects!).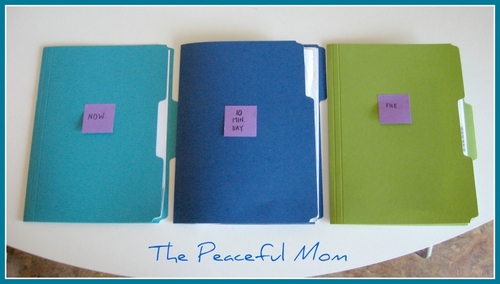 Last week I planned to work on the 10 MIN A DAY folder that I never took care of.  Guess what? I must have a mental block because I still did not get to this folder–aggh!
I did, however, make some progress in the decluttering department and now have 2 boxes and three paper grocery bags filled with items to take to Good Will.
This week's project is a little longer than ten minutes: I will be focusing on doing my night time routine (read more here) and getting into bed by 10:00 p.m. every night. I've really let this habit slide the last few weeks and when I go to bed late, I wake up late or I wake up groggy. Neither option makes for a good day. It also means that I neglect my morning art journaling time because I am just scrambling to get everything started for the day.
Would you like to join me in a ten minute a day project this week?
Choose an area you want to change or a project you have procrastinated on starting. When you decide what your Take TenTM project will be, you can leave a comment on this post to let us know what you're planning–the more the merrier!
You May Also Like: