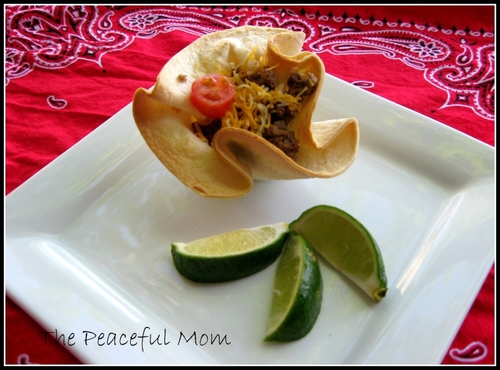 Want to make an easy, but impressive dinner tonight? Try these simple taco cups**!
A delicious recipe from ThePeacefulMom.com!
Ingredients
For cups:
(6) 6 inch flour tortillas
2-4 tablespoons olive oil in a small bowl
For Filling:
2 tablespoons olive oil
1 medium onion, diced
1/2 green or red pepper, diced (optional)
1 lb ground beef
2 tablespoons taco seasoning* (see link for homemade recipe below)
Toppings of choice (shredded cheese, tomatoes, green onions, avocado)
Instructions
Brush both sides of each tortilla lightly with olive oil.
Arrange each tortilla into the cup of a muffin tin, so that it forms a bowl shape.
Bake at 350 degrees for ten minutes or until the top of the cups is lightly brown.
While the cups are baking, add 2 tablespoons of olive oil to a large stainless steel or iron skillet (or spray with cooking oil).
Over medium heat, saute peppers (if using) and onion until the peppers are soft and the onion is slightly translucent.
Add ground beef and brown.
Push meat to the outside of pan and add taco seasoning to the center of the pan.
Allow seasoning spices to heat for 45 seconds.
Stir seasoning into meat.
Add 1/4 cup water and stir again.
Add taco meat to baked cups and squeeze with a little bit of lime.
Garnish with desired toppings.
Serve immediately.
Notes
*Taco seasoning: 4 tbsp. chili powder; 2 tsp. cumin; 1 tsp. cinnamon; 1 tsp. salt; 2 tsp. oregano; 1 tsp. cayenne pepper.
Combine in a small bowl. Store in an airtight container if not using immediately.
https://thepeacefulmom.com/2012/03/21/taco-cups-recipe/
** To make this gluten free, serve with gluten free taco shells or corn tortillas. The corn tortillas are not as pliable as the flour tortillas and didn't work for me to make the cups.
I'm linking up at Tasty Tuesdays!