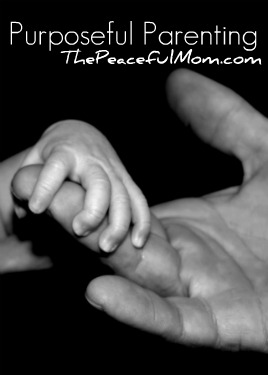 Purposeful Parenting: When Parenting Isn't Fun
Most days I am so happy to be a stay at home mom. I love my kids, I love spending time with them and I love being able to have an influence over their lives. There are those days, though, that can really get to me.
Yesterday was one of them.
My teenage son has Asperger's Syndrome (an autism spectrum disorder), and while he has made HUGE strides in many areas, there are some days when he is highly agitated. When we start the day off in that way, it never goes very well. He is irritated by everything and everyone and has no problem letting us know.
After a pretty calm day considering my son's state, my husband and I left for our weekly date night. Most date nights we leave our children at home for a few hours with my oldest daughter in charge. Our teenage son is left with strict instructions for what he can and cannot do, and those things primarily consist of staying in his room to watch a movie or play his Wii.
I'm not sure if this is true of other children with Aspergers, but at least with my son, it's as if he forgets everything we have ever taught him and every morning he starts with a fresh slate. We have to remind him daily about the appropriate way to interact with family members, but last night I forgot to remind him of the date night rules.
About an hour into our date, I called to see how things were going. My 11 year old daughter answered the phone crying, and when I asked what had happened she told me that her older brother had tried to get her to stop using the computer and when she did not comply (because she was following my instructions and did not need to), he turned off the computer.
Of course, this left my daughter very upset and resulted in the two of them shouting at each other, my daughter crying and us having to return home from our date to get everyone calmed down. I have to admit, I did not handle the conversation with my son as well as I would have liked. I participated in the shouting as well, but within a few minutes I was able to calm everyone down, have them ask each other's forgiveness and move on. (Of course, dear son ended up with a consequence of doing his sister's chores for the week.)
In moments like these, I wish so badly that we didn't have to deal with the problems associated with Aspergers. The emotional drain of dealing with special needs is just exhausting and frustrating. I feel angry that my son behaved the way he did and that we had to end our date. I feel angry that we are limited in a lot of ways because of what my son deals with.
But then I remember that God gave me this child and He will enable me to parent him. Many parents can't leave their special needs children even for a short time without arranging childcare. Some parents can't have a conversation that their children can understand. I remember and I am thankful for what we do have.
So I will start again today asking for God's grace and wisdom in caring for these children and thank Him that His mercies are new every morning.