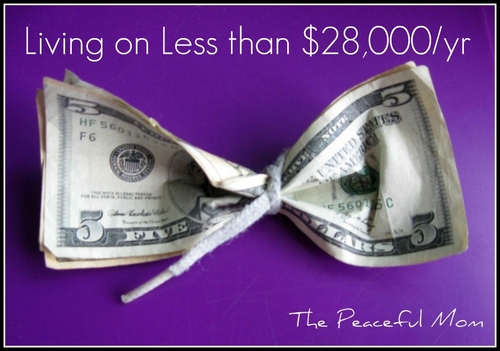 Living on Less Than $28,000 A Year: How our family of six survives (and even thrives) on an income that is less than half the national median income, and what the government calls "below the poverty line" (less than $29,990 annually) for our family size. [Read other posts in this series here.]
_________________________________________________________________
Join me on Twitter or Facebook for instant updates or subscribe to my FREE e-newsletter to get posts right in your inbox!
_________________________________________________________________
We all want to have fun ( I wanted to write "need" to have fun, but I don't think it is necessarily a life or death issue like water is. 🙂 )
You might think that responsibly living on less means that we never have fun, but we have found that restricting ourselves in that way means we eventually have big, irresponsible spending blow outs. To live on less for the long term, we need to make our budget realistic, and it's just not realistic to say we will never enjoy any form of entertainment.
We do, however, try to have fun in proportion with our income level. Because the entertainment budget can only be a small percentage of our spending, we carefully consider the value of the entertainment money we spend. Here are some of our family's real-life examples: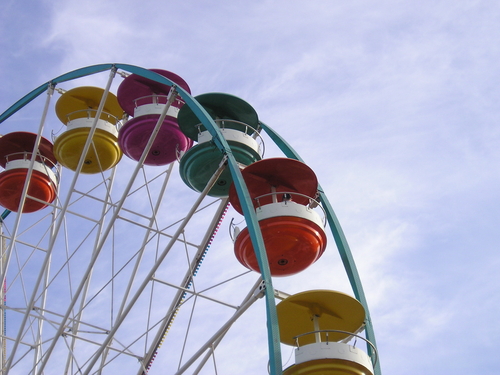 The Carnival
Last week there was a carnival in town that the kids wanted to attend, but we found out that the rides were $4.00 each, or $20 for an unlimited wrist band. For our family to attend it would have cost $100 for the unlimited ride wrist bands, or $80 if my husband and I just let the kids ride.
So we had a little family meeting and talked about the issue and the alternatives:
*don't go and save the money
This would be wise because it's always good to save money, but the carnival will only be here for a few days and it would be a missed opportunity (some of my kids have never ridden a Ferris Wheel).
*spend the money
Spending the money might be fun, but it would have to come from another budget category, because we didn't have that much entertainment money. If we spent it, would we miss out on other opportunities later? Was the value of the fun we would have comparable to the amount of money we would spend?
*an alternative
Then during the discussion one of my children had the idea to go and ride one ride, which would cost $4 or $16 for the four of them. They all agreed that was a better alternative than missing the carnival altogether, so they went with my husband, each rode their favorite ride and returned home to watch a movie together.
This would not be acceptable for some children, but I was glad it worked out for our family.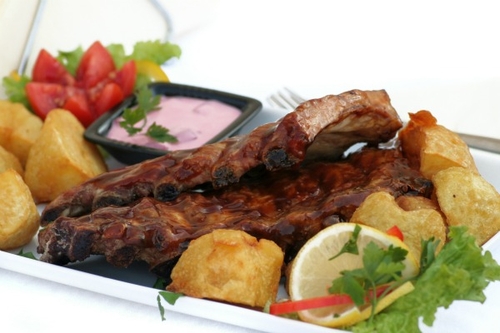 Dinner Out
There is an amazing Brazilian Steak House in our town–the kind where they bring meat to your table on huge skewers. The only problem is that dinner for my husband and I costs about $125 including tax and tip. We were able to get a Buy One Get One coupon, which is an amazing deal, basically $50 off. So, our alternatives were:
*spend the money It was so tempting to celebrate my birthday by going to this restaurant. We have only been once (a work perk) and we knew that the food was amazing. We rationalized that we would probably not have this coupon again and it was 50% off. Of course we should do it!
*don't spend the money Then I thought about the fact that it would still cost us $60-$70. While the experience would be wonderful, it was not worth $60, which is about 2/3's of my weekly grocery budget.
*an alternative  Someone gave us gift certificates for a nice chain restaurant. We could still go out, but pay only the tip. We could still eat steak, it just wouldn't be served on a skewer,  but then I would probably feel better eating one steak rather than 4 plates full of steak.
If we had not had gift certificates, we probably would have eaten at a cheaper restaurant that offers free birthday meals. We would still be going out, but not spending too much in proportion to our income.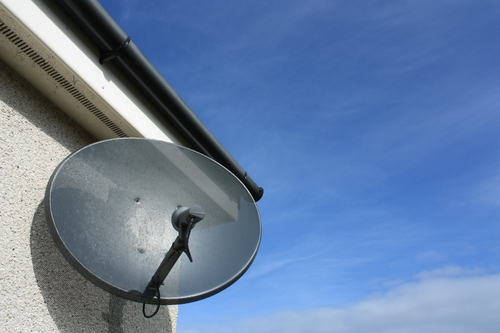 Cable and Satellite Television
I like television. I like it so much that I can watch House Hunters, Food Network and Myth Busters for hours on end. The only way to see those shows is to pay for television, but with a tight budget it's hard to decide if that's a wise choice so we discussed the alternatives:
*spend the money In the past cable t.v. cost $60 a month or more, but now companies are combining the t.v. into packages with internet and phone services and you can pay as little as $20 a month for all that wonderfully educational and inspirational entertainment. We could sacrifice something else in the budget and make that work, then we would have no need to spend money on movies or other outside entertainment.
*don't spend the money There are plenty of shows available to watch for free with regular t.v. programming or on the internet, and it would probably make more sense to not pay for "special" television considering our budget constraints.
*an alternative  We decided not only to ditch the cable television, we ditched t.v. programming altogether. We check out dvds from the library and watch them together, but we have no television programming coming into our house whatsoever. If you turn on the t.v., you just get static.
Some of you (especially the sports fans) may be thinking I've gone too far, but let me tell you what we have gained from eliminating our television viewing:
better communication  We talk to each other a lot more and there is no shouting to get someone's attention while they are zoned out in front of the television.
peace

 There is not constant noise in our house, nor is there the constant flow of information that may not be beneficial to my children.

increased creativity  

My children create board games, videos and animation. They write stories, songs and text messages (oh wait, maybe that doesn't fall into the creative category!). My entrepreneurial daughter created sets of hand painted stationery that she sells as a business.

increase productivity

The average American watches 37 hours of television a week. That is almost two entire days of your life lost every seven days. I have found that limiting our entertainment time has enabled us to do more of what really matters.
If these ideas seem too radical for you, try choosing some cheaper entertainment alternatives every couple of weeks. Here are some ideas to get you started:
CHEAP FUN

Watch a movie at the $1.00 theater.

Have a family picnic in the park.

Walk in a quaint downtown area and buy ice cream.

Borrow a movie from the library, pop homemade popcorn with special toppings.

Have a dollar icecream from a fast food restaurant.

Eat icecream at home.

Host a board or card game night with friends.

Invite another family (or families) over for a  "potluck" dinner or dessert.

Have a homemade pizza night with friends.

Play baseball with the neighbors.

Go hiking at a National Park.
How to you save on entertainment? Leave a comment.
next post: 3 Months to Financial Change
Click here to read other posts in this series.
You May Also Enjoy: