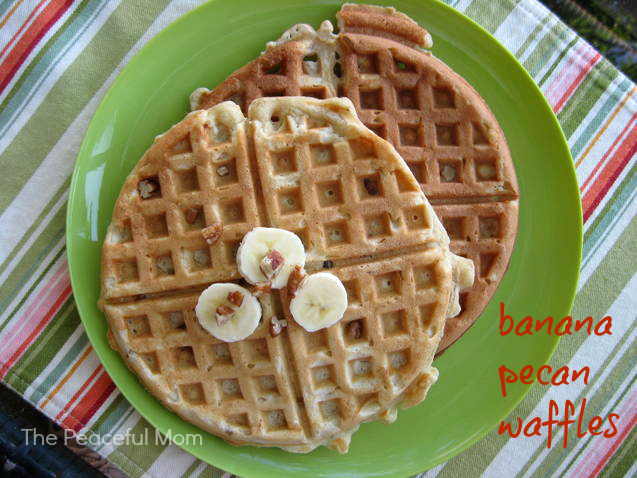 Banana Pecan Waffle Recipe
We love waffles–they are cheap to make and taste great. With the addition of bananas, pecans and brown sugar, these waffles are mouth-wateringly delicious!
Banana Pecan Waffle Recipe
Ingredients
3 cups all purpose flour
1 teaspoon baking soda
1 tablespoon baking powder
1 teaspoon salt
1/4 cup packed brown sugar
4 large eggs, beaten
2/3 cup olive oil
2 teaspoons vanilla extract
1/2 cup mashed banana
2 1/2 cups buttermilk
1/4 cup chopped pecans (add more if you like pecans!)
Instructions
In a large mixing bowl, add flour, baking soda, baking powder and salt.
Mix well.
In a second bowl, whisk together eggs, oil, vanilla, buttermilk and banana
Add wet ingredients to the bowl with the dry ingredients
Stir until all ingredients are just mixed (some lumps are okay).
Fold in pecans.
Cook batter on a waffle iron.
Serve with butter and syrup
https://thepeacefulmom.com/2012/03/16/banana-pecan-waffle-recipe/
Notes:
To make these gluten free, use Bob's Red Mill All-Purpose Gluten-Free Baking Flour instead of the all purpose flour.
*If you do not have buttermilk, you can add 1 tablespoon of white vinegar for each cup of milk and let it sit for for at least one minute before adding it to the wet ingredients. I have also substituted 1 cup of water for one of the cups of milk without noticing any difference.