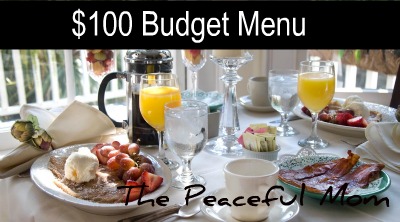 $100 Budget Weekly Menu (for 6 people including 3 teens!): Menu planning saves money! See what we're eating this week with a $100 grocery budget.
(Some items were purchased in previous weeks in the $100 budget and are marked with an asterisk. Don't be discouraged by how much was previously purchased. By purchasing mostly sale items, you can start getting ahead on your groceries too! Read more in my e-book below.)
Check back later today to see my grocery shopping for this week (and link up your savings!).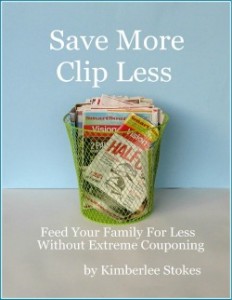 Read more about how I stick to a $100 a week budget in my FREE e-book Save More-Clip Less.
Print your own customizable menu planner form here.
*Items marked with an asterisk were purchased in previous weeks in the $100 Budget and are in the pantry, fridge or freezer.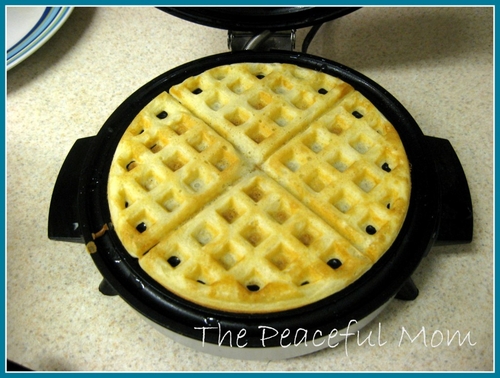 BREAKFAST
Homemade Waffles (read my post here)
Cereal with milk x2
Fried Eggs with Spinach*, orange slices
Cheese toast, banana
French Toast, bacon*
Egg and Cheese Bagels
Peach Mango Smoothie (substituting strawberries for the peaches), popcorn
Turkey Sandwich, red pepper slices
Nachos
Egg Salad, orange slices
PBJ*, cornchips*
Homemade Pizza Bagels
Apple Slices with raisins and peanut butter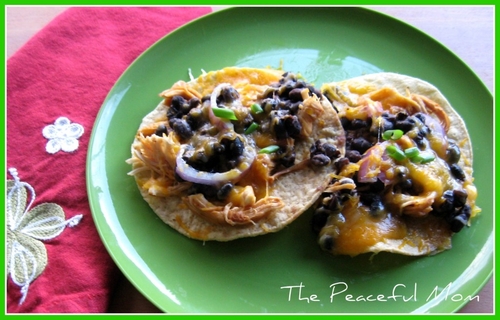 DINNER
BBQ Chicken and Black Bean Tostadas, Tropical Fruit Salad* (tostada shells previously purchased)

BBQ Bacon Burgers*, chips* (repeat from last week that we didn't eat)
Pasta* with sauce*, salad
Crockpot Chili*, corn chips*
Baked Potatoes with leftover chili (watch my Best Baked Potatoes Video here)
Roast, mashed potatoes, steamed green beans
Easy Beef and Veggie Soup (with roast leftovers)
Please Note: I post my weekly menu to encourage you to menu plan and to give you meal ideas, not as a nutritional standard. You should feed your family based on your priorities and values.
You May Also Enjoy: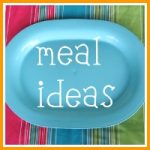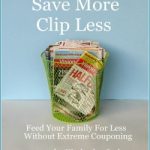 For more menu ideas, check out OrgJunkie Menu Plan Mondays.