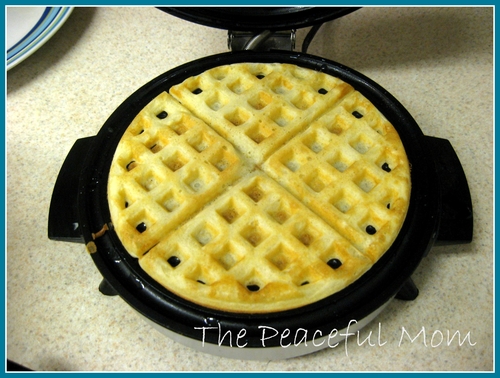 You may have read a few months ago that I had formed a bad habit of purchasing frozen waffles for my kids' breakfast. I loved the convenience, but wondered if I could save money by making them.
A couple of weeks later I found this guy for $3.00 at a yardsale: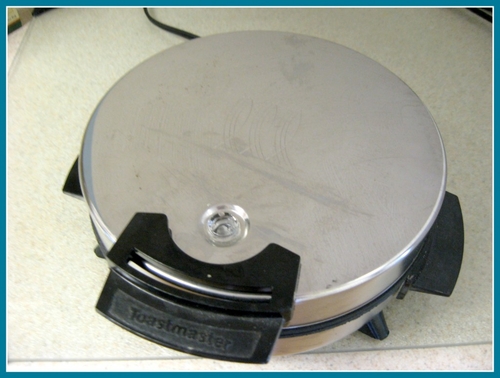 Finally this past weekend, I decided to do some waffle research. Read on to discover my results.
COST (a.k.a. boring math calculations)
After lots of searching on the internet, I discovered that U.S. All Purpose flour has a density of 4.5 cups per pound, meaning that there are 22.5 cups of flour in a 5 lb bag. The cost of the flour that I purchased was $2.09, or $.09 per cup.
The milk was $3.29 per gallon, or $.20 per cup (16 cups in a gallon, so I divided $3.29 by sixteen). The eggs were $1.35 per dozen, so $.11 per egg.
The oil (I used extra virgin olive oil) was $5.50 for 32 ounces, or $1.40 per cup. You could make the waffles more cheaply by using cheaper oil, but I only use extra virgin olive oil, so I didn't have anything else on hand.
Cost of Recipe:

3 cups flour=$.27

2 cups milk= $.40

2 eggs= $.22

1 cup oil= $1.40

$2.29 to make 14 large waffles or $.16 per large waffle
CONVENIENCE
I spent about 45 minutes making the waffles. While this sounds like a long time, each waffle had to cook for 3 minutes and while it was cooking I spent the time cleaning my desk, checking email and doing various other kitchen chores (like prepping dinner for that night).
I would say that the time I spent directly making the waffles was around 15 minutes total to mix the batter and place it in the waffle iron. This time investment resulted in breakfast that day as well as one meal's worth of waffles for the freezer.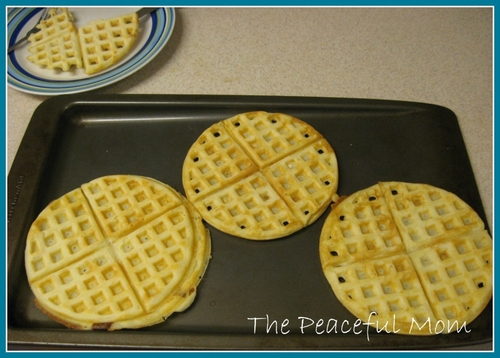 To freeze the waffles individually, I placed them on a cookie sheet and put them in the freezer for a couple of hours.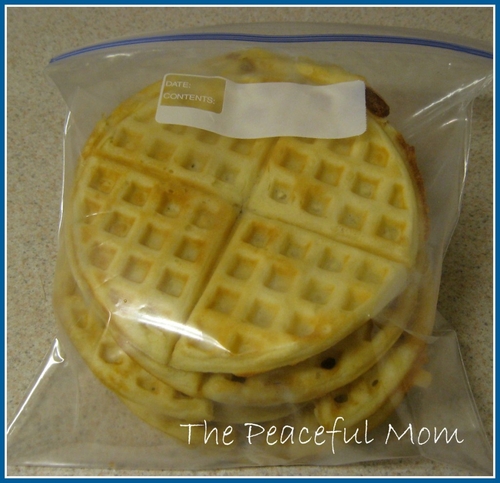 I then placed them in a freezer zipper bag for breakfast later in the week.
CONCLUSION
Normally my children will eat 1 box of store bought waffles at breakfast, which I can purchase for $1.49 per box. When I made these homemade waffles they ate 2 each for a total of 6 costing $.96 (my gluten free daughter had gluten free pancakes).
By making the waffles at home I save $.53. If I add the waffle making to my weekend routine and we have waffles once a week during the year I will save $27.56 over the next 12 months, which may not sound like much, but every little bit adds up!
If you're interested, here is the recipe I used:
DIY Freezer Waffle Recipe
Ingredients
3 cups all-purpose unbleached flour
2 tablespoons baking powder (not soda!)
1/2 teaspoon salt
2 eggs
2 cups milk + 1 cup water
1 cup light olive oil or preferred cooking oil
Instructions
Heat waffle iron and spray with oil.
In a large mixing bowl, combine flour, baking powder and salt.
In a separate bowl, lightly beat the eggs.
Add milk, water and oil and beat until well combined.
Add liquid to flour mixture.
Stir until well combined but slightly lumpy.
Pour approximately 1/2 cup of batter onto waffle iron (amount depends on the size of your iron).
Cook for the recommended time for your waffle iron.
Spray iron between waffles.
https://thepeacefulmom.com/2012/03/14/my-waffle-breakthrough/
Click here for a gluten free recipe!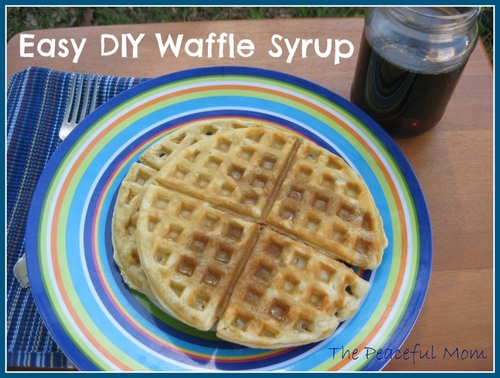 And click here for my easy DIY Waffle Syrup recipe!
What cheap and easy meals do you serve for breakfast? Share in the comments. 🙂
(Please don't comment on the lack of nutrition in these waffles. I have at least eliminated the sugar and the harmful additives and chemicals in store bought waffles. I may experiment in the near future with substituting other ingredients–one step at a time. 🙂 )
I'm linking up at Tasty Tuesday!