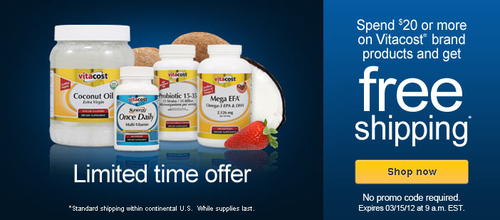 If you haven't signed up for Vitacost yet now is a great time! You can get a FREE $10 credit when you join the Vitacost Rewards Program and today through March 15th, Vitacost is offering FREE shipping on all orders of $20 or more. Purchase $20 worth of products and pay only $10 including shipping!
CLICK HERE to get your FREE $10 credit!
Once you receive your credit, check out all the great deals Vitacost has this week. We like the cod liver oil capsules (great source of vitamin D), but they have lots of gluten free food items, supplements and more.
(Note: Affiliate link)