This is a Sponsored post written by me on behalf of Dollar General. All opinions are 100% mine.
If you're a basketball fan or you're married to one, then I'm sure you are very aware that it's March Madness time (NCAA championship games). Hopefully you are not a basketball "widow" with all the game watching, but if you are and you want something fun to do check out Dollar General's "Bracket of Brands" Game.
To play, click here to go to the Dollar General Facebook Page where you can "like" them. (They already have over 1 million fans!)
Once you like the page, a screen will pop up with the Dollar General's Bracket of the Brands game. Two products will be competing each week and you determine who wins by choosing the product for which you would like a coupon. In the game I played I was able to choose between Ritz and Planters.
Once you choose your favorite product, you can answer three fun trivia questions about the product. Did you know, for example, that the Planter's company was established in 1906? Do you know when Mr. Peanut was introduced? (I'll let you find that one out. 🙂 )
After the trivia game, you can print your Dollar General coupons.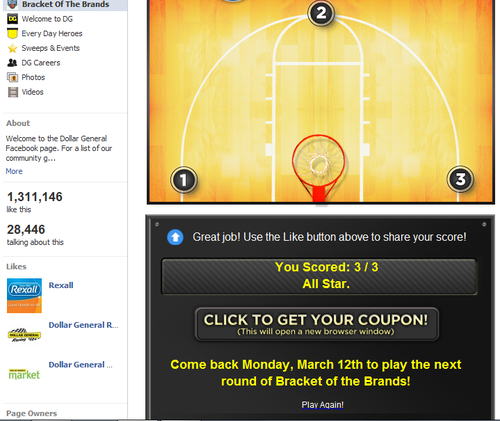 Once you print your coupons, write a note in your calendar because you can come back each week to play again. To make the game even more fun, the coupon values will increase each week!
In addition, Dollar General has a bonus where you can enter to win a grand prize trip to the NCAA championship game and Dollar General giftcards. The contest ends 3/25, so head over today to start playing.