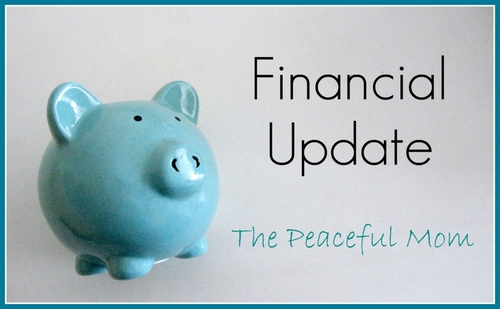 In conjunction with the Living on Less Than $28,000 A Year series, I will be sharing periodic Financial Updates. I won't always give specific numbers, but I thought it might be helpful to have a little window into the day to day decision making process we go through.
This week our total income was only a little bit over my husband's basic pay. If you read my previous post here then you know that we don't make enough to pay everything with his basic paycheck, and in addition we had some non-food needs this week.
In particular, my teenage son (who has incredible growth spurts–he once grew 3 inches in a month!) and oldest daughter needed some clothing and we had a few other items I needed to purchase.
We had $50 in the Freedom Account clothing category, but I knew it would probably take more money to get everything we needed. After transferring the Freedom Account money into the second checking account (read more here) and subtracting the gas money for the week, we only had $78 left for groceries this upcoming week and the non-food items we needed.
As a rule, we always take out the Freedom Account money first because not paying the rent, utilities and insurance results in serious consequences. We have found that if we are faithful to put the bill money aside, even if there isn't money left over for groceries, God always provides somehow.

I am not giving professional financial advice here, only sharing what we have decided to do for our family. Dave Ramsey would tell you to take out food money first.
After talking to my husband, I planned to go ahead and purchase what we needed and trust God to provide the grocery money we would need this week. Thirty minutes before we left to go shopping, I received a $50 gift card from our bank in the mail.
We knew the card would be coming some time, but I know that God timed the arrival of that card so that we would have enough money to get everything we needed. Just another time that He has come through for us.
Have you had any "miraculous" provisions? Share in the comments. 🙂 And tune in Monday when I'll share some ideas for saving on utilities!
You May Also Like: