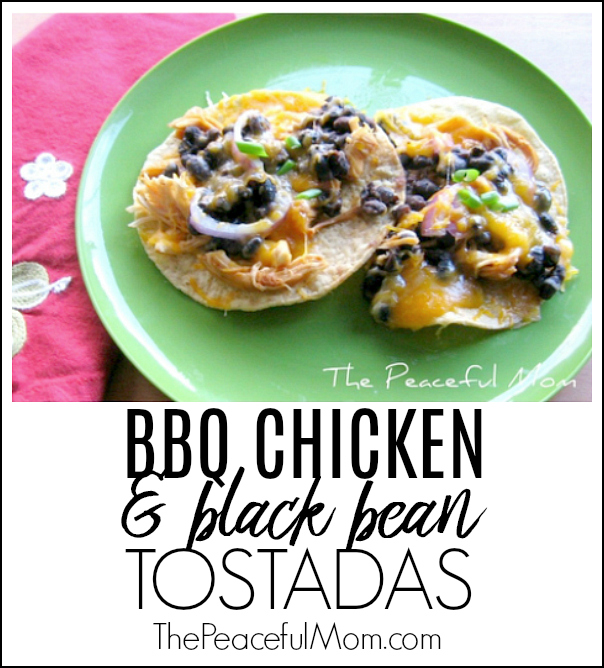 BBQ Chicken and Black Bean Tostadas 
These tostadas are SO simple and SO delicious!
They're perfect for busy days — just throw some chicken in the slow cooker with barbecue sauce, then serve on ready-made tostadas with fresh toppings at dinner time.
Even the kids will love this recipe.
BBQ Chicken and Black Bean Tostadas
A Quick and Tasty Recipe from The Peaceful Mom!
Ingredients
4 boneless skinless chicken breasts
2 cups prepared barbecue sauce
1 can black beans or 1 1/2 cups prepared black beans
1 medium red onion thinly sliced
2 cups shredded cheddar or mexican blend cheese
12 tostadas
1 avocado sliced (optional)
Instructions
Place chicken breasts in crockpot and pour barbecue sauce over the chicken.
Cook on low 4-6 hours or until done. Do not over cook.
Place tostadas side by side on two large cookie sheets.
Shred BBQ chicken in crock pot with a fork.
Place approximately 1/3 cup of chicken on each tostada.
Top with 2-3 tablespoons black beans, 2-3 onion slices and 3-4 tablespoons of shredded cheese.
Place cookie sheets one at a time under the broiler for about 2 minutes or until cheese is melted. Serve immediately.
https://thepeacefulmom.com/2012/03/07/bbq-chicken-and-black-bean-tostadas/
You May Also Enjoy: