Q: I noticed that you don't really have any snack foods in your shopping. What do you do about snacks?
A: I have found that when we eat real food (meat, fruit and vegetables) along with some fat, my children are satisfied and eat less. With the low fat craze many parents eliminate all fat from their children's diets for fear of causing health problems but children actually need healthy fat and protein for brain development. (If you would like an alternative view to the media's attack on fat, you can read more at WestonAPrice.org.).
I also have older children who can go longer between meals but toddlers and young children have to eat smaller meals more often so you will need to find what works best for your family.
When my children do ask for a snack in the afternoon we have several options available: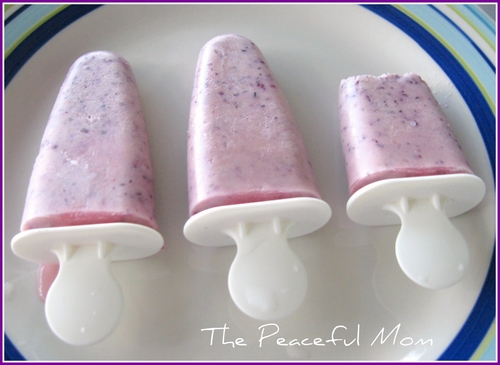 homemade freezer pops made from juice or yogurt (recipe here)
air popped popcorn with melted butter and salt
 apple slices with cinnamon or peanut butter
banana boats (recipe here)
frozen bananas
peanuts and raisins
whatever fruit is currently in season and on sale
The available snacks depend on what I have found on sale or what is leftover from a previous week's grocery shopping. One week Walmart had banana chips on sale for $1.00 a bag so I bought several bags and we added them to the snack stash.
I don't usually buy what most people would consider "snack" foods because they are more expensive, provide little nutrition and rarely fill my kids up but occasionally you will find them in my shopping cart.
As I mentioned above, if you have young children they will probably eat smaller meals more frequently. In my experience, though, some children eat very little real food at meals and then ask for snack foods later because they prefer the taste. If you have big snackers you might want to look at the amount of carbohydrates they consume and watch your children for a couple of days to see if they are eating "snack" foods instead of meals.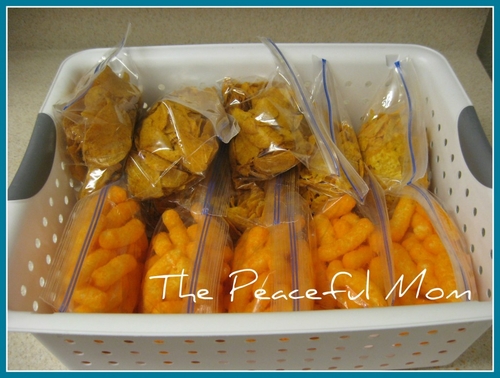 If you do choose to buy snack foods a great way to save money is to buy the larger size containers and divide them into snack bags or other plastic containers. You'll pay much less per serving and you can usually reuse the bags. (These were purchased for a field trip. I don't usually buy chips and cheese puffs unless it's a special event.)
If you have a question for The Peaceful Mom click here, scroll down to the contact form and type the word "question" in the subject line. I can't promise that I will answer every questions, but I will try to get to as many as possible. 🙂
Click here to read more Reader Questions and Answers.