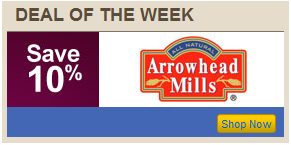 If you haven't signed up for Vitacost yet now is a great time! You can get a FREE $10 credit when you join the Vitacost Rewards Program and today through March 7th, Vitacost has all Arrowhead Mills products 10% off! Your $10 Code will be sent by email and is good on any $10 or more purchase from Vitacost.
CLICK HERE to get your FREE $10 credit!
Once you receive your credit, go click on the deal of the week to check out all the Arrowhead Mills products (including gluten free)!