Ever see something really useful online, but you can't remember where you saw it?
Clipix just solved your problem. Clipix is a new virtual clipboard that you can use to organize all of the things you see online so you can find them later.
Clipix is easy to use. Simply drag the "clip" button to your bookmarks bar and now when you see that really awesome holiday craft idea, click the "clip" button and the item will be stored on a clipboard. You can name the clipboards and organize them any way you wish.

Clipix even allows you to maintain customized privacy settings, so you can save those gift ideas for your hubby without him seeing the board and spoiling the surprise.

Clipix is great for:
home decor ideas
recipes
party ideas
gifts you want to buy
places you want to visit
crafts to try
home school lesson ideas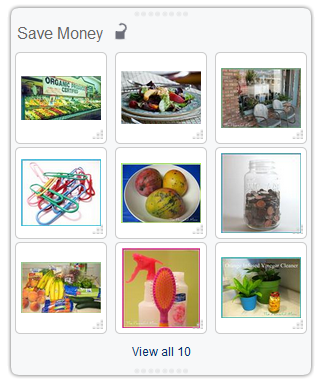 I made the clipboard pictured above with some of the money saving ideas from my website.
In addition to individual boards, you can also use Syncboards and Multiboards. Syncboards are clipboards that allow you to clip collaboratively with your friends and family. When anyone adds a clip to the syncboard, everyone else in the group will see the clip in real-time. Multiboards combine multiple clipboards into a group to help you stay better organized.
There is even an iPhone App so you can add new clips by taking photos of things you see.
Click here to join Clipix and start organizing your on-line life.
What would you use Clipix for? Leave a comment.
Promoted Post