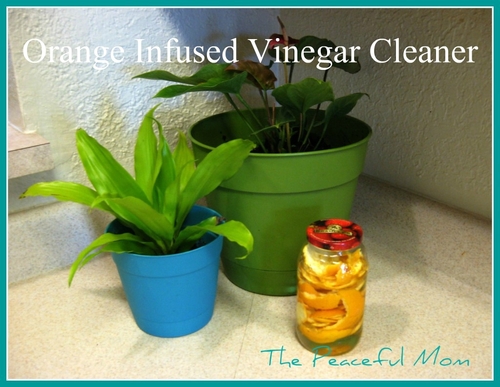 After much urging from my sister and my friend Becky, I am venturing into the world of homemade cleaners in order to save money and eliminate dangerous chemicals from my household cleaning products.
You can read here about my DIY laundry detergent experiment. Today I'm sharing about the second experiment: orange infused vinegar or DIY Citrus Cleaner.
How to Make DIY Citrus Cleaner
The first step to make this all-purpose citrus cleaner is to slice orange peels (with all of the fruit removed) into sections, place them in a jar and pour white vinegar over them. The photo above was taken on Day 1 of this experiment.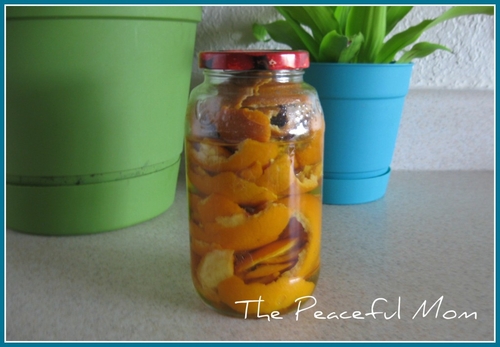 You can decide what works best for you, but I would say three weeks is the optimum time to remove the orange peels. This photo was taken at exactly four weeks after I originally made my concoction and the orange peels are starting to turn a very unattractive brown color.
As far as the smell, it's much more appealing than straight vinegar, but the citrus smell is not as strong as I would have liked. I can still smell a slight hint of the vinegar.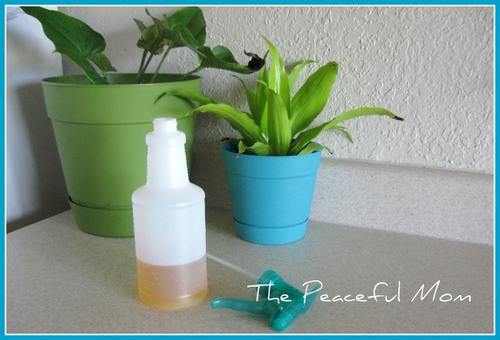 I poured the citrus vinegar into a spray bottle and added water to make the ratio of 1/3 vinegar and 2/3 water.
Effectiveness of DIY Citrus Cleaner
As far as cleaning, I went straight for the most difficult mess I could think of: bacon grease. For the purposes of frugal experimentation, I smeared bacon grease onto my kitchen counter and then sprayed the grease with the vinegar and water combination.
One swipe and most of the grease was gone, but I sprayed again because there was a slight residue of grease left behind. I would say unofficially that it works as well as 409 on cutting through grease stains — maybe better.
Results
I will definitely try this again. While the cost is very low since vinegar is about $3.00 a gallon, I would only make this if I purchased the oranges on sale and needed a way to use the peels. Otherwise, I will stick to my vinegar and water cleaner. The smell of the vinegar doesn't bother me enough to justify the cost of the oranges at full price to make this cleaner.
If you are buying 409 or similar type cleaner at full price or if the strong smell of cleaners bothers you, this would be a good investment of your time and money.
What DIY Cleaners Have You Tried? Leave a comment and let us know how they worked.