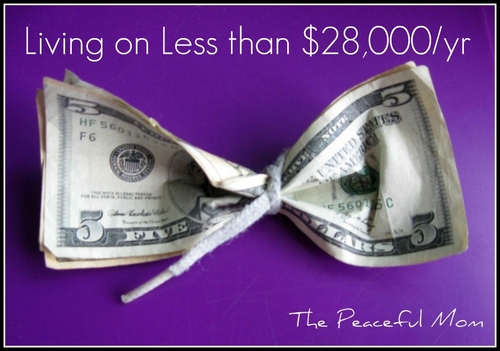 Living on Less Than $28,000 A Year: Yes, our family of six lives on around $2200 a month and for the next few weeks I'll be sharing how we can survive, and even thrive on an income that is less than half the national median income, and what the government calls "below the poverty line" (less than $29,990 annually) for our family size. [Read other posts in this series here.]
_______________________________________________________
_______________________________________________________
Today I want to start with a disclaimer and a story. Disclaimer: I am not an expert, just a mom who is sharing what has worked for us.
Now for the story.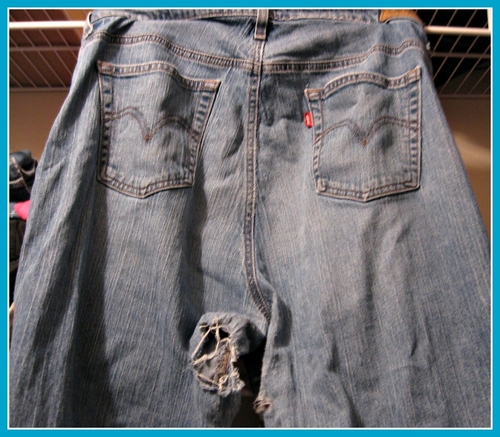 Exhibit A
Last week I put on one of my two "good" pairs of jeans and felt a little breeze. I looked and realized that the small hole in the back of the leg had become a LARGE hole. There are a lot of frugal things I am willing to do, but letting my underwear show through my jeans is not one of them.
I also found that my black slacks were too short. (Is it possible to grow taller after age 30?)
Considering the fact that I was leaving for a conference at the end of the week and I wanted to look somewhat professional, I knew that it was time to go shopping.
I am normally super cheap when it comes to buying clothes. I try to shop only when I need something and I usually go to a discount store in my area where I can find shirts for just a few dollars and jeans for around $15. I occasionally purchase clothes from Walmart, but the quality isn't always great. I also shop at the thrift store, but that doesn't often work when I am looking for something specific.
When I prayed about where to shop (yes, I prayed about it), I felt that I should go to an outlet store about 20 minutes from my house, even though I have never found anything in my size that I liked at that store.
Armed with about $50 from the clothing budget of our Freedom Account (read more here), I walked into the outlet store. Within a few minutes I found 2 pairs of jeans and one pair of black slacks all in my size and an appropriate length (slacks should not be confused with cropped pants!).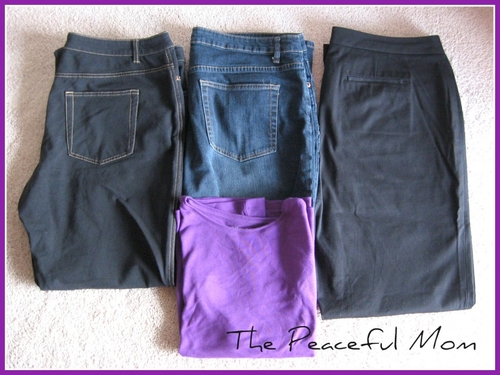 I also found a name brand t-shirt. My total? $35.00, or the average cost of one pair of jeans (unless you shop at a high end store and pay $200 for a pair.)
Now you may attribute this to my awesome shopping skills, but that is not the case. I know that God sent me to that store and provided those clothes for me.
I love the way The Message says it:
27-29"Has anyone by fussing in front of the mirror ever gotten taller by so much as an inch? All this time and money wasted on fashion—do you think it makes that much difference?

Instead of looking at the fashions, walk out into the fields and look at the wildflowers. They never primp or shop, but have you ever seen color and design quite like it? The ten best-dressed men and women in the country look shabby alongside them.

30-33"If God gives such attention to the appearance of wildflowers—most of which are never even seen—don't you think he'll attend to you, take pride in you, do his best for you? What I'm trying to do here is to get you to relax, to not be so preoccupied with getting, so you can respond to God's giving.

People who don't know God and the way he works fuss over these things, but you know both God and how he works. Steep your life in God-reality, God-initiative, God-provisions. Don't worry about missing out. You'll find all your everyday human concerns will be met.

Matthew 6:29-33
Why did I tell you this story? To let you in on a simple truth:
 We do our part (and I'll share more about the practical things we do in upcoming posts), but we believe that God helps us to live on less.
Click here to read other posts in this series.