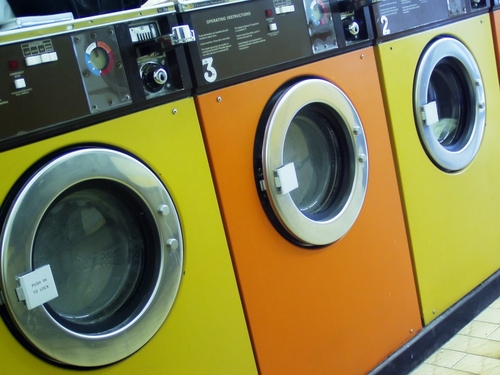 De-Stress Your Laundry is a guest post from Lauren Hill at Mama's Laundry Talk.
___________________________________________________________________
Whether we view it as easy or burdensome, laundry is an integral part of our lives. In almost every family, laundry has a way of multiplying and quickly getting out of control.vAnd that mountain of laundry? It's stressful and overwhelming.
Here are 3 simple tips to de-stress your Laundry Life.
CREATE A ROUTINE
Getting a laundry routine in place is the one action that will keep your laundry from piling up to the ceiling every week and causing those seeds of laundry stress to grow.
Ask yourself these questions and then start building a routine based on the answers:
How often am I available to wash laundry? (Every day? Once a week?)

Who can help me get the laundry completed? (Husband? Older Kids?)

Do I need to buy anything to make this job easier? (New hampers? New Laundry Sorters?)
After you determine the answers to these questions, FORMULATE A PLAN AND THEN IMPLEMENT IT. Most importantly,make sure you announce the new Laundry Routine to your family so everyone knows what part they play in having clean clothes.
PURGE THE FAMILY'S CLOTHES
Start in your own closet, sorting through each clothing item. If you haven't worn it in at least the past 2 years, donate it. Move on to your husband's clothes and then your children's closets. Keep sorting and purging clothes until you have a reasonable amount of items to wear – the exact number of clothes will look different for each family.
By having fewer clothes in your closets and drawers, THE LAUNDRY PILE CAN ONLY GROW SO DEEP BEFORE YOU'RE FORCED TO WASH THEM. Purging clothes is similar to forced self-discipline, in that you must do the laundry so you'll have something clean to put on!
SET ASIDE UNIFORMS
If you have children involved in extra-curricular activities and sports, SET ASIDE THEIR UNIFORMS AT THE BEGINNING OF THE WEEK. We've all had the mad panic 10 minutes before the ballgame when we realize the uniform pants are at the bottom of the dirty clothes' hamper.
Avoid that chaos all together and have outfits ready before they're needed.  Make sure you store all of the outfit/uniform pieces together so you aren't searching for items at the last minute.
Hopefully by implementing these three tips you can de-stress YOUR laundry!
___________________________________________________________________________
Lauren Hill is the 'Mama' behind Mama's Laundry Talk.  From stain removal to the proper way to fold clothes, Mama helps you get your Laundry Life under control.
You May Also Enjoy: