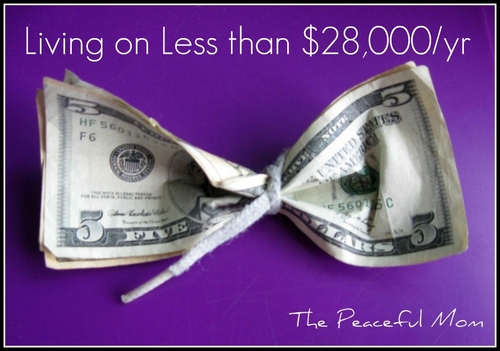 Living on Less Than $28,000 A Year: How a Family of six survives and thrives on a less than average income.
[UPDATE Feb. 2013: Welcome! These posts are from a series I started in February of 2012. Our income has since increased, but we still use these same principles to live on less so we can spend our money on our true priorities.]
Yes, our family of six lives on around $2200 a month and for the next few weeks I'll be sharing how we can survive, and even thrive on an income that is less than half the national median income, and what the government calls "below the poverty line" (less than $29,990 annually) for our family size.
Before we get started, I'd like to address two issues: (1) WHY I'm sharing the information and (2) WHY we live on such a small income. I'll address the specifics of HOW we live on a lower income in future posts.
WHY AM I SHARING THIS INFORMATION?
I have written about money saving ideas for some time, but I have been hesitant to put an actual number on our annual income for a couple of reasons. Number one: it's personal. Number two: it's personal.
Growing up I often heard that there were two things that you never talk about– politics and religion. I would add a third: finances.
These three topics define who we are as individuals and families within our society, and therefore people have firmly held convictions about them. I really don't want to get into a debate about someone's firmly held convictions and let's face it, people don't just go around announcing their annual income.
I also don't want to be judged. Looking from the outside, it's very easy to say that someone should or shouldn't do something. There are many choices that our family has made that you may not agree with, and I am taking a risk by sharing them. I am risking my "reputation" and I am risking being criticized and looked down on. (After all, when thousands of people read the blog, I have a bit of exposure to public scrutiny.)
So why am I sharing now? My husband and I have considered these factors and decided that the risk is worth it if we can encourage even one family in their financial decisions and struggles.
There are many people who have mortgages larger than our entire monthly income and who may be shocked that we can live on so little. If you are one of those families, I am honestly very excited for you that you make a larger income. Perhaps you would like to be able to save more, though, and maybe reading this series will give you some ideas you hadn't considered before.
There are also quite a few of you who live on even less than we make and life is a daily struggle for you. Hopefully you can gain some ideas and encouragement from this series as well. Now to the second point.
WHY DO WE LIVE ON SUCH A SMALL INCOME?
There are many factors which led us to make the choice to live on one, smaller than average income. The two that come to mind as I write are reducing the stress from over-commitment and prioritizing relationships.
Simple is better.
Life with four children is busy for anyone, but throw in the fact that we have one child diagnosed with severe learning disabilities, one child with a severe allergies and one child with ADD coupled with me working a full time job, and you have a disaster. My stress level was unbearable and I was very unpleasant person to be around (sometimes I still am ;)).
Simplifying to one job and one school (home school) keeps me sane and our family happier.
We love Dad (and I'm sure you do too!).
I'm a former public school teacher and my husband has most of his experience working for a non-profit charitable organization. It would make more financial sense for me to work and dad to stay at home, but my husband is much better in the role of encourager and entertainer of the children than he is as homemaker :).
Having no higher-level training, my husband's only way to make a higher income right now is to work more hours and more jobs. He could do that, but we want to have family time just to relax and hang out.
Time with dad is important at every stage, but it's crucial with three teenagers. Girls need their father's approval and attention to form their identities at this stage of life. Teenage boys need to see how their fathers interact with others, especially how they treat women. Seeing Dad interact on a regular basis with Mom and watching him treat her with respect makes a lasting impression on a young man. All teenagers need someone to bounce ideas off of, and having more relaxed time at home means we have more time to listen and discuss things.
Remember, the judgment I mentioned earlier? Well, at this point you should know that I do NOT judge anyone who makes different choices than we do. We each have unique circumstances and values, and we each have to do what's best for our families based on those factors.
As a matter of fact, we would like to make more money. We definitely don't want to stay where we are financially, but if we have to choose between money and relationships (and for now we do), we are going to choose relationships every time. Relationships are eternal. Money is not.
Now that you know WHY we live on less, in the next few weeks I will be sharing HOW we live on such a small income. In the meantime, feel free to leave a comment. PLEASE remember to play nicely. I would like everyone to feel welcome here. Thanks! 🙂
We're In This Together!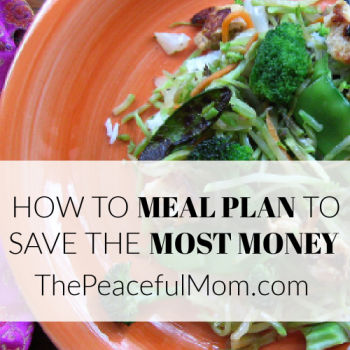 Join The Peaceful Mom Fam HERE
to get weekly, real-life Money-Saving & Organizing Life -Hacks!
Click here to read other posts in this series.
You May Also Enjoy: