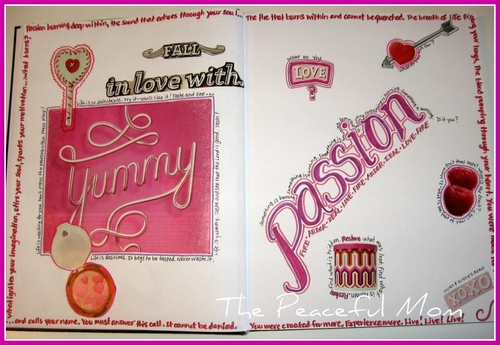 passion n. (from the Latin patior- to suffer)- zeal, ardor, vehement and eager desire, love
What's your passion? (and we're not talking about chocolate ladies!) 😉
If you're a Christian, you probably say God. If you're a mom, you probably say your family, but those are easy answers. Of course you love God and your family, but what is the one thing that you feel dead and unfulfilled without?
I have recently been thinking about this issue of passion. Life can seem like such a drudgery at times with all of the responsibilities we have as wives and mothers. I don't want to have a life of drudgery. I want what the French call Joie de vivre!–a cheerful enjoyment of life, an exultation of spirit*. I want to enjoy all that God has for me in this life.
What are you passionate about? What brings you joy? What gives you life?
Renew your commitment to grow that passion. Give yourself time to do the things that bring you pleasure and joy in life. You'll be a better wife and mother, and a better person. I promise!
*Thanks to Wikipedia for this definition!