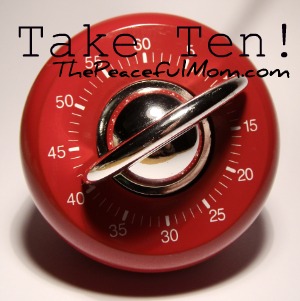 Take TenTM-Improve your life ten minutes at a time!
"The key to success whether you are trying to lose weight, break a bad habit or save money on your grocery bill is to consistently apply small changes over time."

p. 27  Save More, Clip Less
One way I incorporate this principle of small changes over time is to choose a weekly project to work on ten minutes a day. Knowing it's only ten minutes helps me to get started–even if the project seems overwhelming at first. Working on the goal daily helps me to develop discipline (hate the word, love the effects!).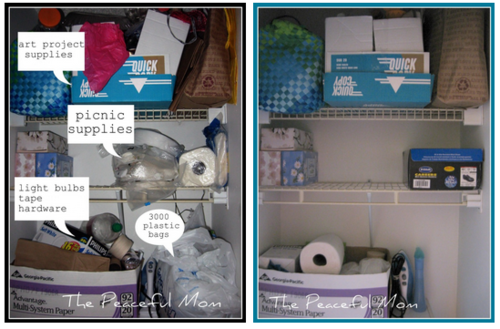 This week I am working on my hall closet. Here is the progress so far on the top of the closet.
I cleaned out the box of hardware stuff and added the picnic supplies to it. I cleaned out and taped up the art project box and in doing so found a great container for my DIY laundry detergent project from this week. The shoe box holds all of our ribbon for wrapping and other projects. The bag on the top right shelf holds all of our gift bags.
I put all of the loose card games into the shoe box on the right bottom shelf. I also put a rubber band around the iron cord so it's not just hanging around. To be honest I haven't found a good solution for the plastic bags, so I took them out temporarily, but they will probably end up back in this closet.
How are you doing on your ten minute a day project? Leave a comment and let us know. 🙂
You May Also Like: