If you read my post here, then you know that I am trying 3 DIY Cleaners this month: Orange Infused Vinegar, DIY Laundry Detergent and DIY Dishwasher Rinse. Today I took the plunge and made my first batch of laundry detergent.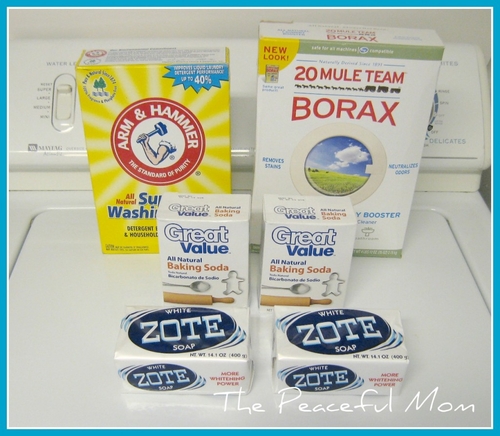 I used the recipe here, but I decided not to add the Oxyclean because:
a) I am cheap;
b) our clothes don't get that dirty;
c) I forgot to buy it and I didn't want to go back to the store. 🙂
I also substituted the white Zote soap for the pink because we are not big on fragrance.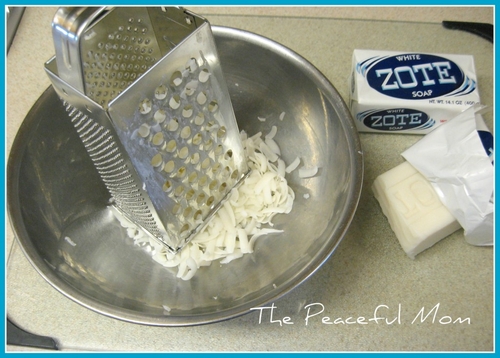 Step 1- Grate the soap.
Seems simple enough–unwrap the soap and grate it using a cheese grater. I stopped half way through the first bar to take a photo and then remembered that I was supposed to be using the fine side of the grater–oops!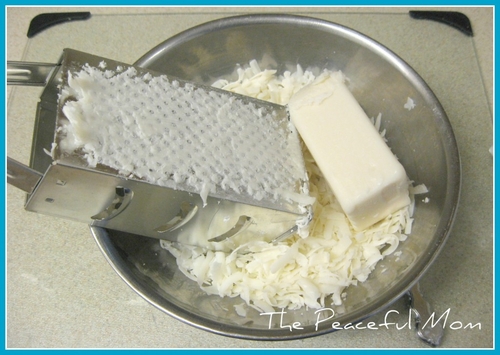 Once I finished the first bar of soap I had so much of a build-up on the grater that it was no longer grating the soap. I stopped and used a butter knife to scrape off what I could, but I had to stop every couple of minutes and scrape again.
Being the impatient person that I am, I went back to using the large side of the grater. I decided it would be quicker to cut the curls of soap with scissors than to mess with cleaning the fine side of the grater.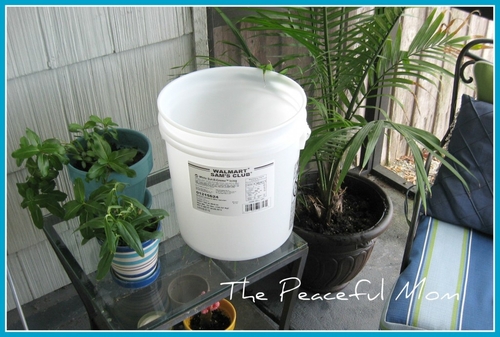 Step 2-Mix the ingredients.
One of the reasons I have put off making the soap is that I didn't have a large container to mix it in. Then I remembered that you can get used 5 gallon icing buckets from the bakery departments of some stores. I asked at my Walmart today and they were happy to oblige. I washed the bucket with hot water and dish soap, bleached it for good measure and dried it thoroughly.
I decided to add my "dry" ingredients first (everything but the Zote). I placed it all in the bucket, put the lid on tightly and then shook it vigorously several times.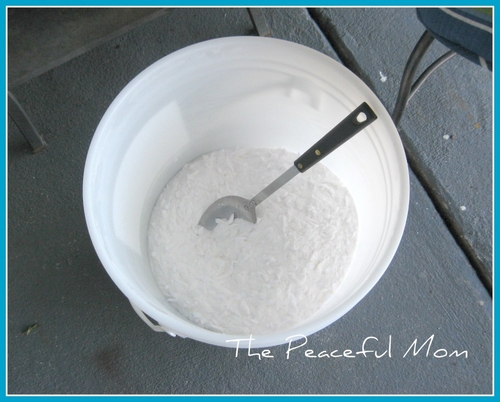 I then added the grated Zote and stirred it with a large spoon. I definitely advise mixing this outdoors or in a very well ventilated area. The powdered ingredients tended to "smoke" when stirred which caused me to have a slight breathing problem.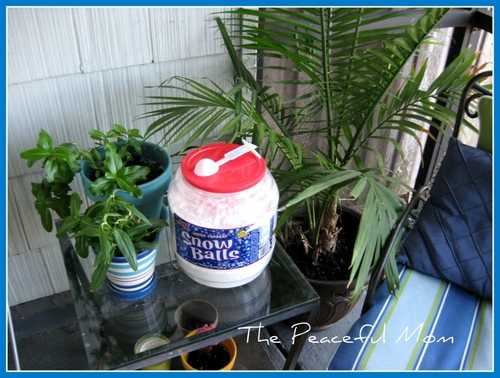 Step 3-Pour detergent into a storage container.
Another reason I had hesitated to make the detergent was that I didn't have a good container to store it in. When I cleaned my hall closet this week, I found this cheese ball container that works perfectly. All of the detergent I made fit into the container and it has an easy to use snap-on lid. I grabbed an extra measuring spoon from the kitchen and I'm ready to go!
The Verdict:
The total cost:
$3.24 Washing Soda
$3.38 Borax
$.97 x 2 Zote Soap
$.52 x 2 Baking Soda
$9.60  total
The price is fairly good. Using 2 tablespoons per load for 7 loads per week should mean that this detergent will last at least a couple of months. I don't buy expensive detergent anyway, so I spend about $3.00 per month right now. If this detergent lasts 3 months I will break even. If that's the case, I won't bother making it again.
Other than the few frustrating minutes of grating the Zote soap, the detergent was very easy to make. I washed my first load this afternoon using 2 tablespoons of the detergent in a large load. The clothes that I washed came out smelling clean with a slight scent of soap. If you want more of a fragrance you can try this recipe which adds Purex fabric softener beads.
I will definitely use the rest of this detergent and I may make it again once I forget how much trouble it was to grate the soap. 🙂
UPDATE:  After using the detergent for a couple of weeks I decided to add the Purex Fabric Softener Beads for a little bit more fragrance. The cost of the beads was $4.76 so my total cost for the detergent is now $14.36. It looks like it will last us at least 3 months because it has been almost a month and we have hardly made a dent in it. I'll keep you updated when we finally finish it.
UPDATE #2:  I am going back to store bought detergent for now and will possibly try a different recipe later. I think the Zote soap is the problem. Read more here.
Have you made any DIY laundry detergent? What was your experience? Share any tips or recipes in the comments.
You May Also Enjoy: