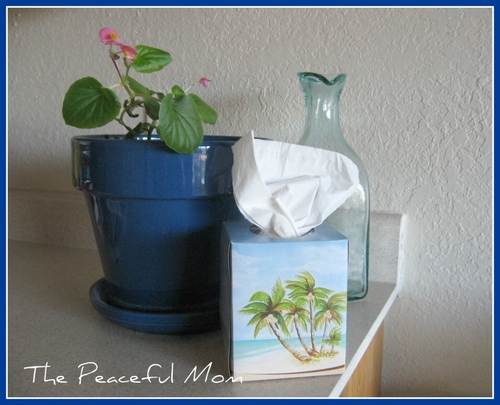 Scotties Tissues recently contacted me and asked if I would like to do a review and giveaway of their product. I naturally said yes, because I love giving away great products to my readers! 🙂
Ironically, the samples arrived just as I managed to get my first cold of the season–perfect timing!
Being the tightwad that I am, I rarely purchase tissues unless they are on sale and I have a coupon. We don't have that many colds and when we do, we usually use good old toilet paper (gasp!). I have to say Scotties are much more comfortable and my nose really appreciated the switch.
Scotties Softest Tissues Ever tissues are hypoallergenic and are made without the use of inks or dyes, which I appreciate as a mom. I also found out that since 2009 Scotties has promised to plant 3 trees for every one it uses to make its Softest Ever Facial Tissue. Their promise is certified through the Sustainable Forestry Initiative (SFI), which is an independent, 3rd party certification program with non-profit charitable status. The SFI audits the health of forests according to 75 criteria that includes biodiversity, habitat protection, water quality, forest harvesting and forest management activities. You can learn more by visiting www.sfiprogram.org.
J.D. Irving, Limited (Scotties Tissue's parent company) has over 20% of its forests dedicated as conservation habitats. Today they manage over 540 specific sites including the famous La Dune de Bouctouche and the Irving Nature Park, both located in New Brunswick, Canada. To learn more visit www.jdirving.com
Scotties has graciously offered to give one of The Peaceful Mom's readers a Scotties Tissue prize pack valued at $25 (exact products are subject to change)!
To enter:

1 entry: "Like" The Peaceful Mom on Facebook and share the giveaway (you can use the "f" button at the bottom of the post). Leave a comment saying you have done so.

1 entry: Follow @thepeacefulmom on Twitter and tweet about the giveaway (you can use the "t" button at the bottom of the post). Leave a comment saying you have done so.

1 entry:  Just for fun, leave a comment telling me how long it would take your family to go through 16 boxes of tissues. 🙂
Rules:
*You may enter once for each category for a total of three entries.
*Contest ends Monday, February 20th at 9:00 a.m. Eastern Standard Time.
*The winner will be chosen from the comments on this post and will be notified by email.
You can also "like" Scotties on Facebook!