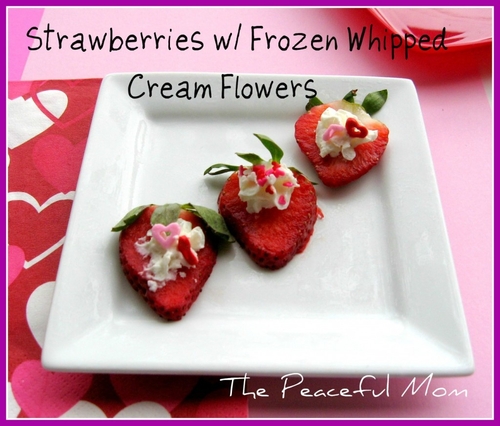 Simple & healthy Valentine's Treat: Strawberry Bites with frozen whipped cream flowers. This is a very simple treat that children will enjoy.
YOU WILL NEED:
Butter or spray oil
Spray whipped cream (like Redi-Wip)
Fresh strawberries
Valentine sprinkles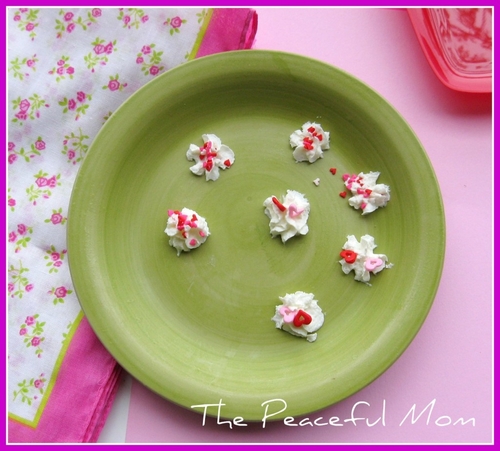 DIRECTIONS
Butter (or spray with oil) a small plate. Turn the whipped cream can upside down and, leaving only a small space between the nozzle and the plate, spray the whipped cream to make small "flowers". (The larger you make the flowers, the easier they will be to remove later, but you want to make sure they will fit on your strawberry slices.)
Place Valentine sprinkles in the whipped cream and put the plate in the freezer.
While the "flowers" are freezing, wash and slice strawberries long ways so that they are in a heart shape.
Once the "flowers" are well frozen (1 -2 hours), slide a knife underneath each flower to carefully remove it from the plate and place it on top of a strawberry slice. Serve immediately. The whipped cream will thaw quickly, but is fun to eat when it's frozen.
You can serve these on waffles for a fun Valentine's themed breakfast.
Simple, but fun!
You May Also Enjoy: